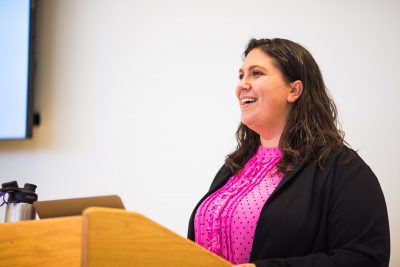 Hundreds of miles away, workers extract coal from mines in southwestern Pennsylvania. Massachusetts Institute of Technology's Environmental Solutions Initiative brought the coalfields to Boston through a talk they hosted about environmental and economic justice for the residents of those mining towns.
The talk on Monday was part of the initiative's People and the Planet Lecture Series. The lecture was held in the Silverman Skyline Room of the MIT Media Lab for members of the community and the public.
Veronica Coptis, executive director of the Center for Coalfield Justice in Pennsylvania, was the featured speaker and said the CCJ aims to "protect and improve the environment and health in the communities that are impacted by fossil fuel extraction and to diversify our economy so that we have a more resilient economy in the next coming years."
Coptis said she grew up in the western side of Greene County, Pennsylvania, near the Bailey Mine Complex, and was directly affected by the expansion of a coal valley holding toxic mining waste. She said this drove her to seek assistance from the CCJ, and today she leads the organization.
The area is currently facing longwall mining and hydraulic fracturing expansion, according to Coptis. Longwall mining is an underground extraction technique that removes coal in long panels, often causing layers of rock to collapse in the void left behind, according to the CCJ.
Hydraulic fracturing, or fracking, collects natural gas and oil from shale formations by injecting high pressure liquids into rocks, according to the CCJ.
Access to safe drinking water is limited by these mining techniques, Coptis explained, and residents who live near extraction sites are exposed to air pollution from the processing and use of coal.
Though fossil fuel production poses environmental and public health risks, coalfield communities are heavily reliant on the industry to support their local economies, Coptis explained.
"There's a lot of instability, particularly in the coal industry, moving forward," Coptis said. "Without adequate planning and preparation for a potential decline in the coal industry, we'll end up with a massive loss in tax revenue as well as employment opportunities."
The CCJ is forming a partnership with MIT to conduct research on the economic future of these communities and analyze the tax infrastructures that are supported by fossil fuel extraction, according to Coptis.
According to Coptis, this information can help the CCJ "adequately prepare with local and state government officials to create a plan instead of leaving these communities behind in the dark."
Pamela Hill, a lecturer of environmental law at the Boston University School of Law and former attorney at the U.S. Environmental Protection Agency for over 30 years, said she feels today's political discourse does not focus enough on environmental issues.
"If you look at the subjects that are addressed by politicians, for example, in this midterm election, the environment is hardly mentioned at all," Hill said. "We don't focus on educating students about it, and we don't focus on educating the public about it."
According to Hill, there is a national imbalance struck in favor of industrial production and consumer culture at the expense of environmental justice.
Hill defined environmental justice as "the fair treatment and meaningful involvement of all people regardless of race, culture, national origin or income with the respect to the development, implementation and enforcement of environmental laws and regulations of policies."
Low-income communities often face disproportionate burdens of environmental inequality, Hill explained. These groups should be given reasonable opportunities to express their views and influence decisions that affect their communities, according to Hill.
Hill said stricter regulation of industrial production could improve national environmental justice. The public could also benefit from more caution by officials when deciding whether a pollutant is dangerous, Hill said.
Fossil fuel use can also be reduced with a cultural shift that moves the public away from excessive consumption, she said.
Aidan Kaminer, a freshman in the College of Arts and Sciences, said he feels that most students at BU are conscious of environmental justice to an extent.
"In theory, they are concerned," he said. "But I don't think most act on it in a way that would be inconvenient for their current lifestyle, so I don't think they're more concerned than most people."