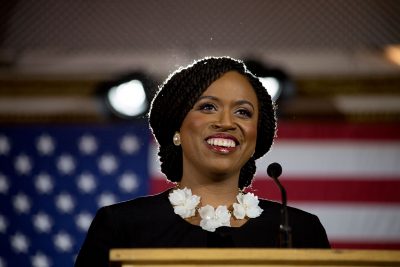 By Damian Walsh and Andy Vo
A record number of women were elected into the U.S. House of Representatives during Tuesday's historic midterm elections, which led many Americans to deem 2018 the "Year of Women." Massachusetts voted in three women: Ayanna Pressley, Niki Tsongas and Katherine Clark.
In Boston, several female politicians ran for re-election or challenged incumbents at the state or local level, including the new Suffolk County District Attorney Rachael Rollins and State Treasurer Deb Goldberg.
The 2017 viral #MeToo movement and increased political engagement in the wake of recent controversies led the way for what has been called a "pink wave" — a high number of female candidates and female voters — in federal, state and local elections.
In this election cycle, 184 non-incumbent women ran for national offices or gubernatorial seats, and a record number of women won their primaries.
Rollins beat four other hopefuls in a crowded primary race before ultimately facing independent candidate Michael Maloney in the general election. Rollins, who has a record as a general counsel and a chief legal counsel, said in a statement that she sought that position because she wanted to have an impact on the criminal justice system.
"For too long our criminal justice system has not worked fairly for everyone, especially for the poor, people of color, and women," she said, "and I'm looking forward to working together to change that."
Both Rollins and her opponent supported positions on helping end the opioid epidemic. Rollins also noted that she was excited to run as a woman during this election cycle.
"It is exciting to see so many women running for office this year and winning elections based on their qualifications and experience," she said.
In her victory speech, Rollins thanked the people of Suffolk County for their support.
"You, the people of Suffolk County, have said you value people and families, fairness and equity," Rollins said in her speech, "and said it's time for change, for a smarter, more compassionate criminal justice system that works for everyone."
Republican candidate Keiko Orrall challenged Democratic incumbent Goldberg for state treasurer. Orrall was the first Asian-American woman to seek a constitutional office in Massachusetts, after serving as a state representative for four terms.
Orrall's campaign message originated from her working-class upbringing. She often referenced her desire to bridge the partisan gap for the greater good and received the endorsement of newly re-elected Gov. Charlie Baker. However, it was incumbent Goldberg who won the election.
Goldberg's campaign centered around economic opportunity and stability for the residents of Massachusetts. In her victory speech Tuesday night, she spoke of the Democratic ideals of equality and fairness.
"Because at the end of the day, we know what it's about," Goldberg said in her speech. "It's about every small child. It's about every senior citizen … It's about everyone having a fair chance in life."
Pressley made a show of support for her fellow Democratic female candidates at the Massachusetts Democratic election party Tuesday night. Pressley ran unopposed for the Massachusetts 7th Congressional District after unseating Michael Capuano, a 10-term incumbent, in September's primaries.
She is Massachusetts' first African American member elected to the House of Representatives. In her victory speech, Pressley recognized this accomplishment.
"When it comes to women of color candidates," Pressley said in her speech, "it's not just a glass ceiling, but a concrete one."
Several Massachusetts voters rushed to the polls Tuesday to support the many female candidates on the ballot.
Philip Low, 36, said Tuesday morning at a Fenway polling location that he was optimistic about the results of the election. He said it made sense to him that women should have greater responsibility in the government.
"They're 50 percent of the population," the Fenway resident said of women, "so it seems like they should be close to that for representation."
Ashley Weaver, 32, of Fenway, said, as a woman, she wanted to see Democrats take back seats in the Senate, but is more concerned about changing the way immigration is handled.
"I think it's important that we regain Democrats and just ethics in general," Weaver said. "Personally, as a woman, I'm interested in that, but also, immigration is tugging at me right now. We are, as a nation, hurting ourselves. We are hurting a lot of people. We are hurting families."
First-time voter Paula Hernandez, a Fenway resident and recent Boston University graduate, said she felt it was her duty to vote in this election.
"I'm from Puerto Rico, so I've never voted in the U.S. before, so I was really excited to finally have a say in who sits in Congress," the 22-year-old said. "[The election is] definitely going to impact us, big time, just because Congress determines a lot of what happens in this country. A lot of people don't realize that midterm elections are very important."