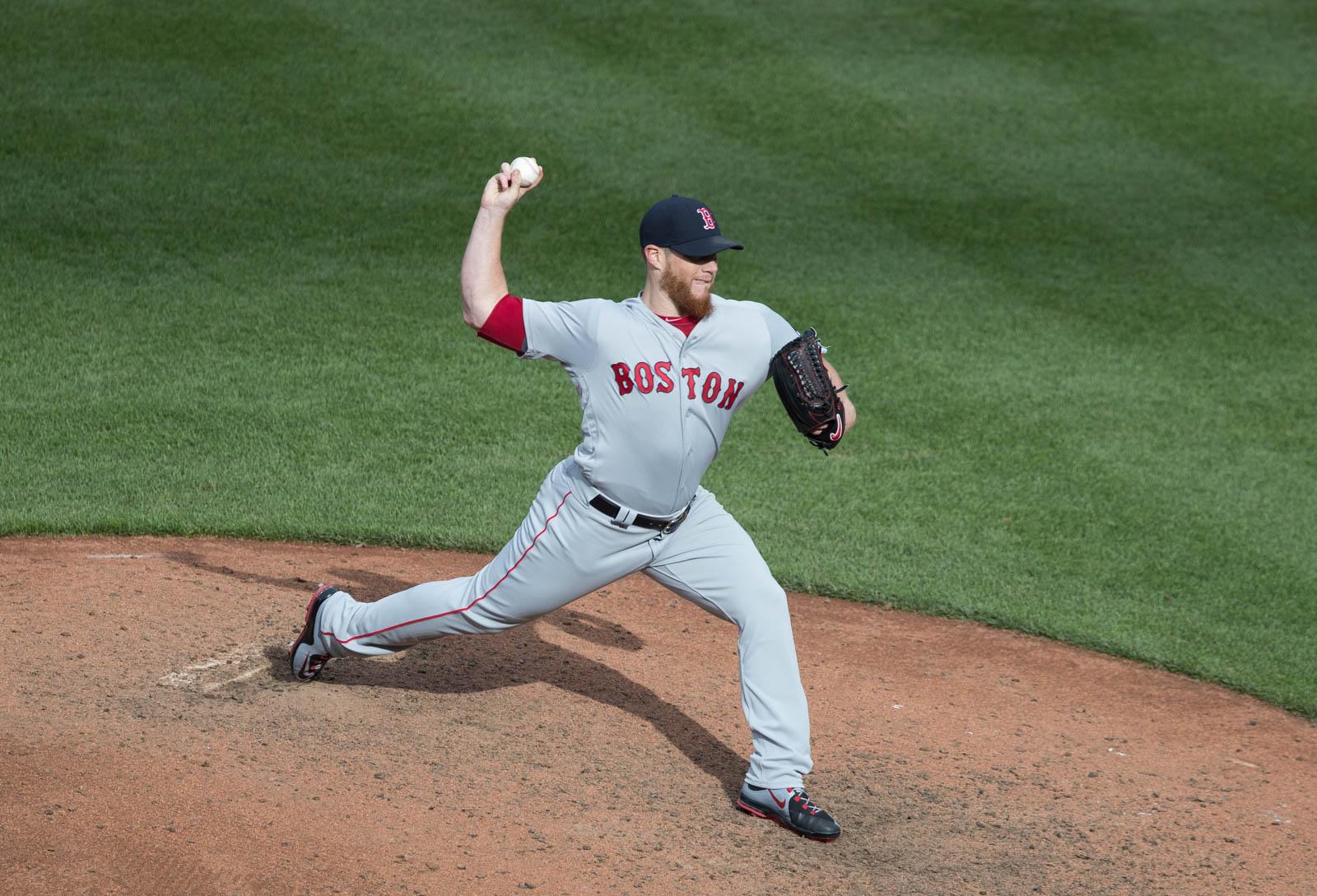 The Boston Red Sox won the World Series at 11:17 p.m. on Oct. 28. With workhorse Dave Dombrowski at the helm as president of baseball operations, preparations for the 2019 season likely began at 11:18 p.m.
OK, maybe Dombrowski celebrated just a little. He probably got to work before the team charter left the ground in Los Angeles the next day. Baseball is a business, after all.
All joking aside, the Major League Baseball offseason did in fact begin the second Chris Sale struck out Manny Machado to end the 2018 season. The first contract deadline for teams came just days later on Nov. 2, and the annual general manager meetings concluded Thursday. Fire up the Hot Stove. It's officially Winter in the baseball world.
No team has won consecutive World Series since the New York Yankees in 1998–2000. Dombrowski is hard at work to change that. With the Championship Parade still just barely in the rearview mirror, here's a breakdown of the Red Sox offseason.
Red Sox free agents (in increasing order of importance)
Brandon Phillips.

Let's start with the obvious. Phillips, 37, had only one noteworthy at-bat for the Sox in 2018, didn't make the playoff roster and has no spot on the depth chart. He'll likely receive a minor league deal somewhere, and probably not in Boston.
Drew Pomeranz.

The most frustrating Red Sox pitcher since Clay Buchholz. The Sox traded a high-end prospect for Pomeranz in 2016, rejected the opportunity to rescind the trade after learning of Pomeranz's health issues and endured a horrendous 2018 season in which Pomeranz finished with a 6.08 earned-run average (ERA). Despite Pomeranz's shortcomings, he will be 30 next week and will likely be cheap. If the Sox fall short in the arms race this offseason, bringing Pomeranz back on a one-year, final-chance deal isn't the worst idea ever. But it's far from ideal.
Joe Kelly.

I have always liked Kelly. At his best, he can be electric, even untouchable. He delivered for the Sox in the World Series (zero runs, 10 strikeouts in six innings) and provided reliable relief during the postseason, a needle in the haystack for the 2018 Sox. That being said, Kelly is largely replaceable. The Sox could mold a late-innings guy from their farm system or sign a cheaper option. If he demands more than $8 or $9 million a year, expect Boston to move on.
Ian Kinsler.

With the absence of Dustin Pedroia, Kinsler was a solid pick-up for the Sox. His offense was decent, his defense was a considerable upgrade (he won a Gold Glove), and he allowed utility men Brock Holt and Eduardo

Núñez

to help out elsewhere. Pedroia will supposedly be ready for 2019, but don't be surprised if Dombrowski brings Kinsler back on a cheap, one-year deal just in case.
Steve Pearce.

Pearce was an enormous pickup for the Sox in 2018. The World Series MVP hit .279 with seven homers and a .901 on-base plus slugging percentage in 50 games for Boston. And we all know what he did in the postseason: three homers, eight runs batted in the Fall Classic. Pearce provided clutch hitting off the bench, he filled in when Mitch Moreland missed time with an injury, and he became an instant fan favorite. At 35, Pearce should be relatively cheap and should be a top priority of the Sox this offseason.
Craig Kimbrel.

This is the toughest one. Despite a bit of a rollercoaster season, Kimbrel remains one of the best relief pitchers of all time. He was an All-Star in 2018, striking out 96 in 62.1 innings with 42 saves and an ERA of 2.74. He was able to bounce back in the playoffs after a tipping pitches incident and wasn't completely untrustworthy by the World Series. But as an elite closer, Kimbrel will receive elite money. He already declined the Sox's $17.9 million qualifying offer, and at only 30, he will seek a multi-year deal. I expect Kimbrel to sign elsewhere, but if the market seems slow, Dombrowski could swoop in with a two or three-year deal later this Winter.
Nathan Eovaldi.

When will Eovaldi's statute be built at Fenway? Eovaldi pitched well after being acquired by the Sox in July, but his real dominance came in the postseason. In 22.1 innings, Eovaldi posted a 1.61 ERA with 16 strikeouts across two starts and four relief appearances. In Game 3 of the World Series, which lasted 18 innings over seven hours and 20 minutes, Eovaldi threw six courageous innings of relief, bailing out the Sox bullpen and etching his name in the Boston history books. Eovaldi will be 29 on Opening Day and should be the Sox's top priority this offseason. After his incredible performance in the 2018 postseason, he has earned himself a multi-year deal and a spot as the third or fourth starter in the Sox rotation for the next few years.
Everything else: other free agents, trades, etc.
The biggest need of the Red Sox this offseason is pitching. Kimbrel and Kelly are likely gone, and the bullpen needs a makeover. In that vein, expect the Sox to take serious looks at elite late-innings guys such as David Robertson, former Sox pitcher Andrew Miller, Zach Britton and Cody Allen. There are options aplenty.

Don't count on the Sox partaking in the bidding for this Winter's biggest names: Bryce Harper and Manny Machado. Boston does not have needs in the outfield or on the left side of the infield. Nor do they have $30 million/year available to give out.

If Eovaldi signs somewhere else, or the Sox see 2018 as an unrepeatable anomaly for him, they could pursue other higher-tier starters on the market: Patrick Corbin, Dallas Keuchel, J.A. Happ or others. It's not likely, but Dombrowski is known to make big moves.

Though their last two bullpen trades flopped (Tyler Thornburg and Carson Smith), Dombrowski could look to fill his bullpen holes via trade. There are countless eighth-inning guys around the league who fit Dombrowski's simple model: young, hard-throwing and injury prone.

The other thing weighing on Dombrowski's mind is the impending future of his young core. Chris Sale, Rick Porcello and Xander Bogaerts are free agents after next season, Mookie Betts and Jackie Bradley Jr. the year after, and J.D. Martinez has an opt-out after 2019. While it is unlikely that the entirety of this crew will stay in Boston long-term, the Sox need to start planning accordingly and should begin extension negotiations sooner rather than later. Though still on the horizon, the desire to retain these stars may temper the team's willingness to spend this offseason.
So there we have it. Seven free agents, big needs in the bullpen and several young cornerstones nearing free agency. The Sox won 108 games in 2018 and 11 more to win the World Series — clearly there aren't too many glaring issues. But Dombrowski will never settle, and the Sox should look to add a few key pieces this Winter to have a shot at breaking the 18-year championship repeat drought.
The annual Winter Meetings, an action-packed week where many big trades and signings occur each year, are Dec. 9–13 in Las Vegas. So get your hot cocoa ready, because the Hot Stove is just heating up. It should be a fun Winter. Especially if your name is Bryce Harper, and you're about to receive a $400 million contract.