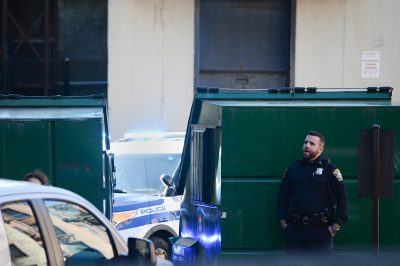 By Audrey Martin and Julia Sullivan
The rate of hate crimes committed in Massachusetts rose 9 percent last year, according to an FBI report released Tuesday.
The report cited 7,175 incidents of hate crime that occured nationally in 2017, but did not specify the details of the crimes in each particular instance. The report is a compilation of data from over 16,000 law enforcement agencies.
This marks the third straight year hate crime has risen overall across the United States. However, Boston College ssociate professor of social work Westy Egmont said he was not surprised by the results.
"I think it distresses me more than surprises me, and I think that it puts many people at risk," Egmont said. "I perceive the rise of hate crime to be part of an unfortunate byproduct of our turned cultural openness to say anything and do anything."
Egmont said there are a lack of social restraints in American culture. He said he thinks comedy, online forums and the current political climate perpetuate hatred.
"I think there's an absence of normalcy to social restraint," Egmont said, "and people have, due to the nature of the changed media, created a sense of it's OK to think anything, say anything, and belong to any group because there are a lot of people like me who have the same opinion."
As for how to stop the number of hate crimes from further increasing, Egmont said the burden should fall on the people in power to set a better example.
"We need restraint and modeling by all who are in the public realm to create a standard of what's acceptable and not acceptable," he said. "And I think it's also true that we have moved into an environment that's increasingly secular, and we have fewer folks who speak to the issues of conscience and setting up personal standards."
Marion Davis, director of communications for the Massachusetts Immigrant and Refugee Advocacy Coalition, wrote in an email that she thinks more people are having their negative views reinforced by "hateful political rhetoric."
"People who quietly held racist, xenophobic, anti-Semitic or anti-Muslim views now feel empowered to express their views out loud," Davis wrote, "and even worse, to act on them — sometimes violently."
Like Egmont, Davis also wrote that she was not surprised by the report's findings.
"This report should be a wake-up call to all public officials and media figures who stoke fear and bigotry to advance a political agenda," she wrote. "Hate only breeds more hate, and even if they see this as pure rhetoric, others will feel encouraged to act."
Mason Dunn, executive director of the Massachusetts Transgender Political Coalition, said he was skeptical about the report because hate crimes, particularly pertaining to gender identity, are often underreported.
"Trans people who go to the police over issues of hatred and bias and violence," Dunn said, "are more likely to be met with additional discrimination and bias from law enforcement."
Dunn said he has seen an increase in transphobia in particular over the past few years.
"There's more openness about trans identity," he said. "There's more people who are out as trans. Trans identities are a little bit more well known and, unfortunately, that means hatred and bias and oppression on the basis of gender identity are also increasing."
Kyliegha Stairs, 22, of Mission Hill, said the increase in hate crimes did surprise her.
"I think people are just ignorant," Stairs said. "I don't know what [the government] could do, but I think that they should definitely figure something out before that percentage increases again."
Northeastern University student Rebecca Chen, 19, said she was not surprised about the report, given all she has seen in the news recently.
"I don't think it's unique to just Massachusetts," Chen said. "Obviously, I'm very displeased and disappointed, and I hope that we can find a way to address these concerns soon before they escalate further."
Kayla Saliba, 22, of East Boston, said she blames political polarization and "aggressive" political rhetoric for the increase. She said she sees the effects in Boston.
"You'll be on the T, and someone might say something, and the people around you also feel uncomfortable, so they look away," Saliba said. "If someone sat right next to me and was making me uncomfortable, I'm sure everyone would just keep walking. Those people have to step up."