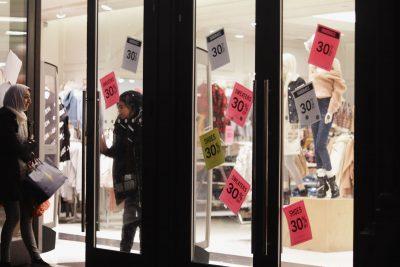 Following the chaos of Black Friday sales, Boston residents headed to local small businesses across the city to participate in the nationwide initiative, Small Business Saturday.
Small Business Saturday, an annual event launched in 2010 by American Express, aims to encourage people to do their holiday shopping at small businesses. The idea is to give local shops and restaurants a boost during the traditionally busy holiday season — a boost that small business owner Carlos Vargas, 59, said has become even more crucial with the rise of e-commerce.
Boston's Small Business Saturday is part of a citywide initiative to strengthen commercial districts during the holidays in the city's neighborhoods, according to a November 2017 press release from the mayor's office.
Those efforts have led to increased traffic for small businesses, such as Ash and Rose, a fashion boutique in the South End. Last year, their revenue from Small Business Saturday was about three times that of a typical Saturday, according to Mary Savoca, 30, who co-owns the boutique with her mother.
"It's always been good for us to do a sale, especially right before the holidays," the Framingham resident said. "It gets people excited for holiday shopping and gets people thinking about supporting a small business instead of buying all their gifts at the mall."
The shop local movement is gaining traction. This year, 83 percent of consumers said they encouraged others to shop at a small business, according to a survey commissioned by American Express.
Ash and Rose was one of several stores touting holiday sales at the SoWa Art and Design District, a shopping center that includes art galleries, studios and boutiques in the South End.
Just a Silver Line ride away, another market opened its doors for the Saturday business day. In the heart of Roxbury, organizers of Black Market said they hoped to generate a bump in foot traffic and sales for the couple dozen black-owned businesses in its indoor pop-up market.
The Black Friday traffic was slower than last year due to the weather, but co-founder Kai Grant, 49, said she was hopeful for an uptick. Last year, she said, the holiday weekend brought in thousands of dollars in revenue and some 2,500 customers for Black Market.
Grant said shopping local is about more than the bottom line.
"You come out here feeling like you are part of a tribe, you are part of a community and that you're doing something," she said. "You're planting a seed. This is not just about spending money for us — this is about creating an economy."
For Grant, planting those seeds is especially crucial in Roxbury, a majority-black community whose once-prosperous Dudley Square has struggled to regain its economic vitality.
Boston's non-immigrant black households have a median net worth of $8, compared to white households' $247,500, according to a 2015 report from the Federal Reserve Bank of Boston, Duke University and New York City's New School.
Massachusetts has made an effort to support small businesses statewide — last month, Gov. Charlie Baker awarded $2 million in small business grants, according to an Oct. 12 press release.
"Small businesses make up the vast majority of companies in the Commonwealth and employ nearly half of all Massachusetts residents, driving regional economies," Baker said in the release.
Mayor Martin Walsh called for Bostonians to shop local in a tweet Friday.
"When small businesses thrive, Boston thrives. 40,000 small businesses provide more than 170,000 jobs for people in Boston," Walsh tweeted. "Help make this holiday season a prosperous one for your neighbors and your community by shopping local this #SmallBusinessSaturday!"
The message came more than a week after Boston lost its bid for Amazon's HQ2 — a move that would have brought jobs and investment to the city, but critics argued would affect residents and small businesses with rising rents and costs of living.
Vargas, who owns Vargas and Vargas Insurance, said he was hopeful that Small Business Saturday would set in motion something larger.
"I'm hoping that folks will come back beyond this Saturday and continue to support the businesses," Vargas said. "If you come to a little mom-and-pop shop, you're actually dealing with the owner, and they're there to support you — support the community. Without small businesses, we don't have a community."