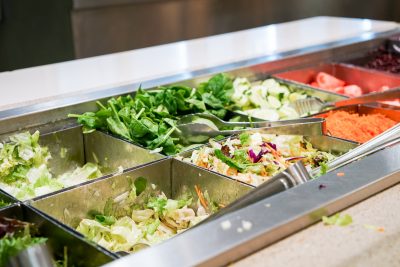 Boston University Dining Services has removed romaine lettuce from all dining halls following the Centers for Disease Control and Prevention's nationwide recall of the product.
A recent E. coli strain tied to romaine lettuce led the CDC to release a national food safety alert Nov. 20 advising consumers to avoid romaine and urging that restaurants not serve or sell any until more is learned about the outbreak.
BU spokesperson Colin Riley said BU Dining Services removed all romaine lettuce from campus dining halls when the CDC released their initial report.
"They are not ordering romaine lettuce and will not serve romaine lettuce or any blends that contain romaine until they know more," Riley said.
Several students said they observed what appeared to be romaine lettuce in Warren Towers' dining hall Sunday night, but Riley said the only lettuce served at that time were green leaf, iceberg and spring mix.
There are 43 reported cases of E. coli, including two in Massachusetts, that have been linked to the consumption of romaine lettuce as of Monday night.
The CDC and Food and Drug Administration initially put a warning out for all types of romaine lettuce, regardless of brand, as they had been unable to determine if the E. coli outbreak originated from a certain romaine producer. However, the CDC announced Monday night that contaminated romaine originates from northern and central California.
Not all types of romaine lettuce contain the E. coli strain, but the recall is in place as a safety precaution, said Joan Salge Blake, a clinical associate professor in the Department of Health Sciences in the Sargent College of Health and Rehabilitation Sciences.
The CDC is advising consumers to throw away potentially affected romaine lettuce in their homes, even if some has been eaten without causing illness. They also recommend washing and sanitizing any shelves or refrigerators that stored romaine.
Symptoms of this E. coli strain often emerge three to four days after exposure after consumption, according to the CDC, and include severe stomach cramps, diarrhea and vomiting. The illness typically lasts for five to seven days.