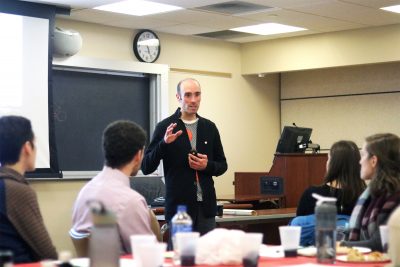 Paintbrushes glided across canvases leaving behind trails of color in a workshop Tuesday at the Boston University School of Public Health. Students and faculty members were invited to relieve stress and express emotion through art.
Express, Heal, and Triumph, an SPH student organization founded in April, hosted the workshop, called "From Authenticity to Healing."
According to Bhumi Vinay Patel, founder and president of EHT, the program consists of three theme-based activities that explore different modes of expression.
"My motive behind this program was to create a space on campus where people could comfortably come in and express themselves," Patel said. "Through this program, we are providing opportunities to share life stories through different communication media."
Patel said that as an international student from India, she initially created EHT to support other students dealing with culture shock and homesickness. However, people of all backgrounds are welcome to participate in the workshops, Patel said.
"I started this because I wanted to help people with their health and help them cope with depression if they were living away from home," she said. "It's an informal place where they do not need to come in as professionals."
According to Patel, her vision for EHT was made possible with the help of Annliz Macharia, EHT's communications coordinator, Rory Moore, EHT's social media coordinator, and Brenda Amuchi, EHT's workshop coordinator.
The first event of the series, "From Resiliency to Expression," was held in October and led by Scarlet Soriano, a doctor at Boston Medical Center. According to Patel, attendees wrote letters to themselves about the challenges they overcame in life.
A month later, she said the letters were sent back to the writers to remind them of their resilience.
Moisès Fernández Via, founding director of Arts/Lab @Med Campus, instructed the "From Authenticity to Expression" workshop.
According to Via, Arts/Lab was created six years ago as an experimental space for students in the College of Fine Arts to work on theater, music and visual arts projects in partnership with the BU Medical Campus.
"Our mission is to invite new generations of healthcare providers and artists to jointly reimagine the role of arts in society's well being," Via said in an interview.
Tuesday's event invited participants to connect with their inner emotions through painting. According to Via, artistic activities enrich the healing process by adding a level of humanity to healthcare.
"Patients lose a sense of their dignity by just being seen and understood as their health condition," Via said. "Arts in the context of healthcare can bring people to reconnect and re-experience their own sense of worthiness and health that is present despite the condition they are facing."
Via said that he was interested in speaking at the workshop because its themes aligned with his personal views.
"Authenticity is a certain bravery to relax in who you are," he said. "Healing is not outsourced and does not take place somewhere else but is a real, truly personal process. Authenticity makes complete sense here, as it is the key that unlocks this process."
According to Via, if patients are determined to recover, then their attitudes can play a positive role in the healing process. He said medical treatment is essential, but recovery also requires inner motivation.
"The point of art is not only expression, not only bringing out, but also connecting in and leaning into what is going on with you," he said.
Shana Kilcawley, a freshman in the Sargent College of Health and Rehabilitation Sciences, said that artistic expression can encourage useful skills.
"I had a program at my high school where we taught middle school girls how to dance and do math," Kilcawley said. "That showed me that dance and other forms of art can be really helpful and therapeutic for people."
The final portion of the EHT series, "From Determination to Triumph," will be led by Ivy Watts, a project specialist at Partners HealthCare and an SPH alumnus, and will focus on storytelling skills.
Patel said "From Determination to Triumph" will build upon themes explored in previous workshops to help students overcome hesitancy and uncertainty.
"Not everyone can express so easily," Patel said. "Some people find it very difficult. We want them to take away the confidence to express themselves and be themselves."