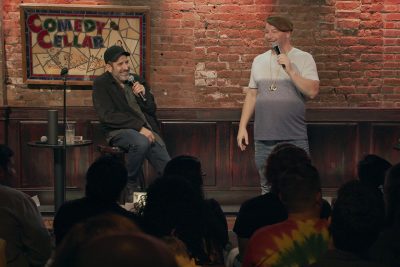 Netflix's latest comedy special, "Bumping Mics with Jeff Ross and Dave Attell," isn't for everyone. But for those who like what the duo is serving up, it's a great time.
The stand-up special is a diverse mix of roasts, mocking observations on life and crude, off-color humor set over a weekend of Ross and Attell's "Bumping Mics" tour. The show consists of three roughly half-hour long episodes, each covering a different night.
The two start off casually roasting each other, making sure to take some shots at the live audience, so they don't miss out on the fun. After the roasts, they segue into a mixture of racial, religious and political humor.
They casually mock, use clever wordplay, make observations on life and then roast some more.
Throughout the special, footage is shown of Ross and Attell roaming around New York City while commenting on stand-up and their comedic routines.
The rapid-fire jokes and mix of comedians taking the stand is engaging, if not always laugh-out-loud hilarious. Attell and Ross are good at what they do.
When Attell and Ross spewed one zinger they were particularly proud of, they bumped their microphones in place of their fists. When they roasted people, people roasted back. Comedians, friends, family members and celebrities joined them throughout the night.
Bob Saget, of "Full House," and Gilbert Gottfried, voice actor of the evil parrot Iago in "Aladdin," both came up on stage. There's no weirder way to find out what Gottfried's stand-up voice sounds like than to listen to his wildly, wildly inappropriate extended introduction.
Also — Bruce Willis can apparently play a mean harmonica and performed a live blues rendition on Ross's demand.
The hosts and their guests alternate taking plenty of vicious yet good-natured jabs at each other.
When Ross invites his aunt on stage, he gives her a sunflower to thank her "for always being in my corner." The sweet remark is followed promptly by his aunt saying that Ross "shocked" her when he graduated from college — from Boston University nonetheless.
If Ross and Attell were just jerks, the stand-up might work, but it wouldn't have heart. Their comedy itself feels warmer and more genuine because there's a couple of mushy things among the endless reams of mockery.
Almost none of their material actually flops, either, and when it does, Attell easily turns it around.
Another standout aspect of the show is the duo's political humor. Political jokes seem almost out of place in a set grounded in ordinary life and pop culture, but what makes the politicized jokes work is that Ross and Attell work well together. Really well. They feel less like performers and more like very funny friends who happen to be inviting the audience to hang out with them.
It's wonderfully intimate, and it speaks to the allure of two comics having fun on stage.
"Bumping Mics" is a victory lap for Ross and Attell. They've been on tour for months and are closing out the show in their home state of New York. All of their friends are there, and it definitely feels like a celebration with the constant guests.
For those who aren't into crude, inappropriate jokes and offensive humor, it might be a good idea to sit this special out. But that shouldn't be a surprise considering that Attell, who is famous for his off-color humor, makes up half of the comedic duo.
And this special would be a hard pass for those who don't like insulting or self-deprecatory humor — the other comedic half is a man whose official nickname is, rather fittingly, "Roast Master General."
It's impossible to tell how much of the special is actually authentic, but it feels actually authentic. It feels like a party — a lowkey one — with a handful of absolutely hilarious friends. And we're invited.