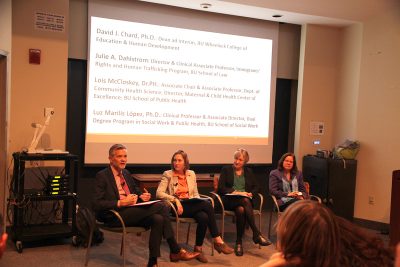 Boston University's Wheelock College of Education and Human Development's committee on Equity, Diversity and Inclusion held a forum Tuesday about current federal family separation's impact on children and communities.
Panel moderator Michelle Porche and a team of students presented an overview of the harms caused by federal family separation policy before turning the topic over to a team of interdisciplinary panelists to discuss the issue through the lens of their academic fields.
Forum co-organizer Reggie Jean, project director of college preparatory program BU Upward Bound, said the Wheelock committee wanted to focus on the national family separation policy through different lenses to provide an interdisciplinary look at the situation.
Panelist Julie Dahlstrom, the director of the School of Law's Immigrants' Rights and Human Trafficking Program, said during the forum that multidisciplinary investigations of issues like family separation are necessary, but not always common.
"It's a shame that sometimes it takes events like this, but I think this is an area where interdisciplinary partnerships [are] not only important but [are] essential," Dahlstrom said.
Porche, a clinical associate professor in Wheelock, said the intent of the forum was to look at psychological and legal consequences of family separation enforced by the federal government.
Several panelists have worked with immigrant populations or worked on legal issues concerning immigrants, she said.
Panel members included Dahlstrom, Wheelock Dean ad interim David Chard, Lois McCloskey, associate chair of the School of Public Health's Department of Community Health Science and School of Social Work professor Luz Marilis López.
Panelists talked about the difficulties faced by both the children and parents in separated families and how many different mental and physical health problems can result from such a policy.
Chard said people should consider the problems separated children face from a holistic perspective instead of isolating the issue of separation.
"I also think it is important to understand the context of separation with the other adverse experiences children have," Chard said. "These things don't happen individually, and it's not just separation, but also the absence of other things going on in their lives."
Wheelock doctoral student Jessica Koslouski and College of Arts and Sciences sophomore Mercedes Munoz discussed the trauma and hazards unaccompanied immigrant and refugee children face and how these problems can worsen when they are separated from their families and put in detention centers.
"These experiences of terror during detention can result in the worsening of severity of these pre-existing post-traumatic symptoms," Koslouski said.
López played audio and video clips of children held in facilities after being separated from their parents.
The video showed a child asking her mother, "Are they coming to take me away again?" and the audio clip included children crying and screaming, "Papa." By the end of the panel, several people in the audience of around 50 had tears in their eyes.
Mary Battenfeld, a clinical professor of American studies who was in attendance, said she found the panel valuable and informative.
"I thought it was a really important event, and the problem they identified is just so terrible," she said. "They talked about what it was, and they offered solutions, so [I'm] glad it happened — glad I came."
Wheelock senior Caleb Ho said he attended the event for a class about teaching English in situations that typically have a huge population of immigrant students.
"[The conversation] was very pertinent to that discussion about how to approach students in our classroom who may come from that kind of background," he said.
Ryan Sexton, a Wheelock graduate student, said he found it reassuring to see that experts were researching the subject.
"While I've consumed so much of this information through the news and seen videos of people experiencing this trauma and living through these things, seeing policy experts and public health experts talk about the current research they're doing and how they're working on it together gave me hope," he said.