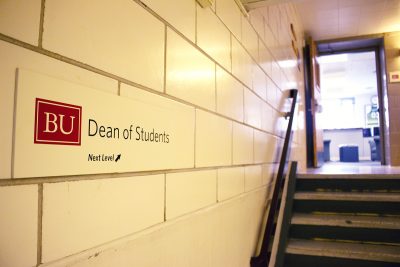 Transition to Boston University (TTBU), an undergraduate peer mentorship program for new transfer students, is wrapping up its first semester on the BU campus and looking to gain official status under the Dean of Students Office.
The program is student-run and was founded this past summer by Roselynn Reyes, a senior in the College of Arts and Sciences.
Reyes transferred from Oregon State University to BU as a sophomore and said she decided to start the program to help ease the process for other transfer students. She first gauged interest over Facebook, and when she saw enough people supported the project, she decided to move forward.
The program pairs up transfer students with returning BU students with whom they share a similar interest, major or background, Reyes said. TTBU has hosted events during the semester for their transfer mentees and mentors ranging from study groups to a Thanksgiving dinner and will be hosting a holiday party Friday.
Special Assistant to the Dean of Students Darcy Dubois serves as advisor to the program following her 10-year tenure at Wheelock College, which merged with BU in June. She said that after her transition from Wheelock, she wanted to put something in place to help the Wheelock students who were transitioning as well.
The program garnered much interest with little marketing, she said, with 75 mentors and 75 mentees signing up in a short amount of time.
The number of people joining the program made it difficult for Reyes to manage at first, as she had to match participants and plan events with little assistance, she said.
"In a way it was kind of hard, because juggling all of these things became a lot, especially with the school year starting," Reyes said. "Then I also had to find new people to help me, so it felt like everything was piling on, but once we got the E-board set, it stopped being hard."
Over the summer, Reyes' Facebook posts caught the eyes of Sargent College of Health and Rehabilitation Sciences sophomore Angelee Verdieu, who now serves on TTBU's E-board as the public relations chair. Verdieu said that though she is not a transfer student herself, she was interested because she knows what it feels like to come to a new environment.
"Struggling to find your place in a school as big as BU is something that I feel everyone here can relate to," Verdieu said. "The goal of the program is to give transfer students a guiding hand in their transition process, because it's hard to come in when it seems that everyone around you has everything all figured out."
This year, the program is sponsored by the Dean of Students Office, but Reyes said that before she leaves, she wants the program to be official through BU.
"I want it to be under [the Dean of Students Office] because they have a mission to serve all undergrad students," Reyes said. "I also want it to be official, because I want to know that when I'm gone there is funding and there is more than students being involved in this program. I want to see staff members of BU also involved."
This semester has been a trial for TTBU, Dubois said, and now the team will look to expand and improve by figuring out what has been helpful, what transfer students still need and whether the program should last for a semester or a full year.
"This program helps them find their group of friends of people who have been through similar experiences, and getting tips from transfer students who have done this before has been really helpful for them," Dubois said. "That's why I kind of think it's an important piece, even if it's just for a semester."
Reyes plans to focus on marketing and getting the program into open houses and orientation, she said.
CAS sophomore Hugo Gastone, who transferred from Syracuse University for his sophomore year, said while he had not heard of or benefited from the program, he thinks it could be helpful for other transfer students.
"There are some people who are going to have more trouble with getting used to Boston University," Gastone said. "It's a really different school compared to others, academic-wise and in other regards, as well. It could be really useful for a lot of students."
Sargent sophomore Vivian Tran serves as the internal affairs representative of TTBU's E-board. She said that regardless of whether a transfer student comes in as a sophomore, junior or senior, it feels like they "are thrown in as the fish out of water."
"We have things for incoming freshmen, like FYSOP and FY101, but I feel like transfers didn't and don't have that opportunity, and that's kind of why TTBU started," Tran said. "To help them feel welcome into the community and to give them the resources that they need that BU administration isn't necessarily providing."