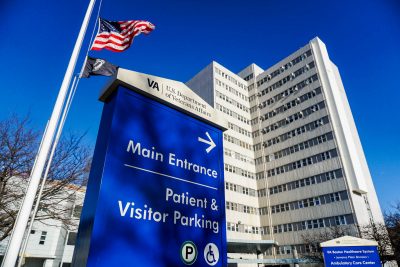 The Department of Veterans Affairs has experienced delays processing checks for the housing allowances and tuitions of some veterans going to universities, including a student at Northeastern University.
Student veterans across the country are struggling to submit tuition and housing payments to their universities on time because of the back up. The Boston Globe reported that the VA announced Nov. 29 that it would reimburse the student veterans for their full payments after receiving backlash when the agency originally said it would not do so.
VA Secretary Robert Wilkie said in a statement that the organization will work to ensure that the veterans who depend on the Forever GI Bill, which provides veterans with such education benefits as priority enrollment and a work study expansion, are able to pay for their education.
"Although VA has encountered issues with implementing the Forever GI Bill on Congress' timeline," Wilkie wrote, "we will work with lawmakers to ensure that – once VA is in a position to process education claims in accordance with the new law – each and every beneficiary will receive retroactively the exact benefits to which they are entitled under that law."
The Veterans Benefits Administration announced in a press release on Nov. 28 that it is beginning to reset the way it processes sections 107 and 501 of the Forever GI Bill, which will change how monthly allowances are calculated.
To ensure communication between the multiple parties involved with getting payments to veterans, the VBA said in the press release that it will maintain contact with everyone involved.
The VBA also asked schools to begin their paperwork for the spring semester so that work can be completed on time.
Mark Bryson, a veterans employment representative from MassHire's Department of Career Services, said there are other federal programs available that can provide educational and career aid for veterans besides just the VA, such as the Workforce Innovation and Opportunity Act.
"That's a federal program which, basically, it gives every career center a block grant in order to help them to facilitate trainings for people that need it," Bryson said. "Usually, it is no cost to the individuals, and they can get training anywhere from getting certifications, that sort of thing, or even up to getting like an associate's degree."
Another option, Bryson said, is for veterans to get vocational rehabilitation to help them return to the workforce.
"If they are a veteran, then they should be eligible to go do vocational rehabilitation," Bryson said. "That's one of the ways that veterans can get funding for training, or they have post 9-11, or they have the GI Bill.
Mirna Rodriguez, 62, of Jamaica Plain, said she thinks funds should be available for veterans who want to obtain a college degree. She said the VA and universities should unite because education can provide a better life for veterans.
"They should make funds available because it's very important for veterans," Rodriguez said. "They deserve support. I believe they deserve to go to college."
Lisa Bennett, 43, of Brookline, said she thinks the VA should compensate veterans for keeping the country safe.
"They serve our country, they help us be safe and everything like that," Bennett said. "They should go all the way for them."
Laconia Strothers, 33, of Downtown Boston, said she thinks the government has "dropped the ball" with regard to supporting veterans. She said she has worked with homeless veterans in the past and believes no veteran should be homeless or unemployed.
"As far as them going back to school, it's very unfortunate," Strothers said. "They shouldn't have to come back from service after defending our country for whatever reason our government feels like they throw them out there for at this point. They should be given everything that they need."
Strothers said she thinks the VA has enough money to support veterans until the federal government figures out the delays in processing checks. She said she doesn't think the VA supports veterans as much as they should, especially considering her recent experience losing a family member who was in the Marines during World War II.
"He went to the VA for help, and they sent him to a hospital, and that was it," Strothers said. "He was in there for a week, and they called us and told us he didn't make it."
Kylie McDaneld, Ayodele Abinusawa and Joel Lau contributed to the reporting of this story.