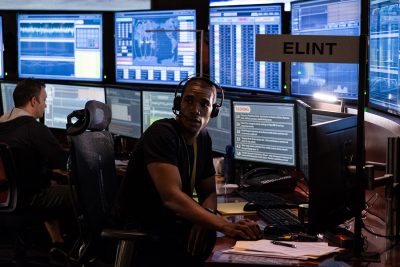 If you have never heard of "Pine Gap" before, that's OK. Netflix certainly did not put too much effort into its marketing campaign.
Shows such as "Pine Gap" would not have been released on the streaming service in its earlier days, back when it wanted to keep up a reputation of being a prestigious channel.
Now, the company has adopted a business model akin to "throw everything out there and see what sticks." This means that now we will be seeing critically acclaimed dramas such as "Stranger Things" and low-quality, forgettable efforts such as "Pine Gap" on the same service.
"Pine Gap" was originally broadcast in Australia back in October, with Netflix picking up international streaming rights. However, it is hard to imagine the show will get too much more exposure from this, considering how mediocre of a product it is overall.
The plot of "Pine Gap" is centered in the titular location in Australia. More specifically, it focuses on the Pine Gap Australian-American joint intelligence facility that deals with a variety of threats, with the main one in the first episode being a disastrous missile launch.
If the pilot is anything to go off of, "Pine Gap" will be far from a gripping watch.
Right out of the gate, the characters come off as flat and poorly portrayed. Many great shows have started off weak but had at least one engaging character to keep viewers invested. That is not the case here.
Every single main character comes off as nothing more than a cliche cardboard cutout that could be seen on any typical network television series. They are all defined by one or two traits, and it is hard to see how any of them could become standouts, even with more episodes and seasons.
It is so difficult to get invested in any of these people that their conversations and names start to blend together over the course of the episode. It's all just standard, uninteresting drama with actors who don't seem like they're trying.
The plot is about as standard as you would expect. To give the show some credit, the setting of "Pine Gap" is a unique one and could be interesting to American audiences not familiar with the territory. But that is essentially where the reasons to watch it end.
One has to wonder if giving this show an international release on Netflix will do much to enhance its viewership at all, as there is nothing about it that could stand out to viewers in the crowded world of television today.
The fact that this show did not receive much attention at all, even during its original broadcast, is telling. This is yet another Netflix original that has been quickly released with little to no marketing, and it will likely be forgotten just as quickly.
The show's worst sin is simply that it is boring. There is no point during the first episode that feels anywhere close to engaging.
Those looking for a good espionage thriller would be better off checking out the show "24," which is a thriller series that follows Jack Bauer (Kiefer Sutherland) as he thwarts terrorist plots, which is available via Amazon Prime and is highly entertaining throughout its many seasons.
"Pine Gap" would like to be on the level of that show and appears to take inspiration from it, but nowhere near enough effort is put in to achieve this.
It is highly unfortunate that Netflix is content with adding underwhelming material to their catalogue, but unless the day comes when they are only composed of underwhelming content, viewers can still value the many great shows that they continue to produce.