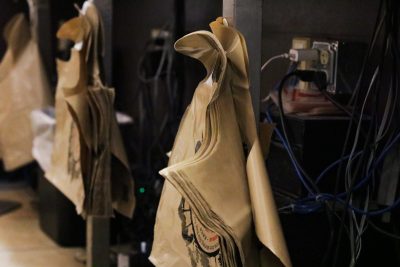 Boston will begin implementing a citywide plastic bag ban starting Friday in an attempt to reduce litter and curb the environmental harm caused by single-use plastics.
The measure, signed by Boston Mayor Martin Walsh last December, will take effect just before this year's holiday shopping season.
City Councilor Matthew O'Malley, who represents Boston's 6th District, said he began working on the ordinance in 2016 and believes it will be "enormously beneficial" to the city.
"If you walk around any given street, you may see a plastic bag that's caught up in a tree or down in a storm drain," O'Malley said. "We're seeing a lot of cities and states, quite frankly, step up in terms of better sustainability and environmental practices, such as implementing some sort of plastic bag ordinance."
The plastic bag ordinance will solely apply to "checkout bags" used at stores and will not include newspaper bags, produce bags, laundry and dry cleaner bags, or trash bags, the City of Boston website states. Retailers can keep recyclable paper bags, compostable bags and reusable bags in stock and can sell other compliant bags as well.
Inspections will begin Friday for 20,000 square foot and larger retail establishments and on July 1, 2019 for establishments smaller than 10,000 square feet, according to the website.
Bill Rennie, vice president of the Retailers Association of Massachusetts, said the association's main concern with the plastic bag ban is whether it will increase costs for retailers across the city.
"Plastic bags certainly are less expensive than the alternatives, which you'll see most people switch to a heavier paper bag," Rennie said. "There's, of course, the 5-cent fee that will be added to help offset those bag costs."
Rennie said there are currently about 90 ordinances across Massachusetts that are similar to the Boston plastic bag ban. He also said, due to the number of similar ordinances, the association would like to see a statewide standard set in place.
"All of these are different from town and town, and that patchwork of ordinances or regulations can be very problematic," Rennie said. "In general, I think when municipalities get involved in the regulation of consumer product, it can be difficult."
Casella Waste Systems serves as the official recycling contractor for the City of Boston. Elle Osowski, a customer service representative for Casella, said that due to how thin plastic bags can be, they often get caught in the recycling processors. Therefore, she said, the bags and their contents cannot be sorted or recycled properly.
Osowski also said that although Casella cannot process their plastic bags, other facilities have recycling drop-off spots that can, including most Boston local grocery stores.
"It's really just a matter of people looking for the correct place to recycle," Osowski said. "I think that the biggest environmental impact will just be based on whether or not people want to recycle them, or if they're just going to be a little bit lazy and throw it in with the trash."
Brian Helmuth, a professor of marine and environmental science at Northeastern University, said the plastic bag ban will help Boston raise awareness about the use of plastics. He also said he thinks the ban will help set a "norm" that will have impacts on surrounding communities.
"I think we've become so accustomed to automatically destroying everything that's plastic, throwing it away, and then when it's out of sight, out of mind, we don't see the impact," Helmuth said. "So I think that, first and foremost, it's going to raise awareness of just how much plastic we use."
Matthew McTygue, 48, of Watertown, who has worked in the Back Bay neighborhood for 20 years, said he sees plastic bags in the form of litter, especially on windy days.
"Not having plastic bags, it's certainly not going to change my life in any way, but I think it is a good step in the right direction and will mean less litter clinging to the trees around Boston and less litter in the Charles River and the harbor," McTygue said.
Mike Hansen, 51, of Roxbury, said he thinks everyone should do their part to reduce plastic waste.
"It's the least we can do, bring reusable bags," Hansen said. "We know bits of plastic are ending up in the stomachs of animals and should be doing everything in our capacity to make sure that's not happening. I'm happy to bring my own bags shopping — do my part."
Kim Cohen, 36, of Brookline, said she thinks Boston should have instituted a plastic bag ban a long time ago.
"I frankly can't believe that this isn't already in place for a city that's typically a frontrunner on environmental stuff," Cohen said. "I know a lot of places try to encourage bringing your own bag or charge for disposable bags already, but I think it's good it's being mandated now."
O'Malley said the process of drafting the ordinance was robust and that he concentrated his efforts to make sure they were impactful and positive.
"I'm delighted to see how positively we benefit the city, and I'm just really grateful to have had it pass unanimously through the City Council and signed into law by Mayor Walsh last December," O'Malley said.
Chloe McKim Jepsen contributed to the reporting of this article.