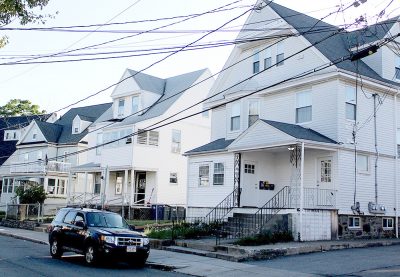 In a world where consumers buy anything from socks to smart TVs at the push of a button, it is no surprise that students also have the opportunity to find their new off-campus house from the comfort of their old one. This is the premise behind the "Boston University (BU) Housing, Sublets & Roommates" Facebook page.
The page acts as a hub for its more than 22,000 members to both list and rent housing. The site offers a wide variety of housing options at a range of prices, from a North End room listed at $1,000 to a seven bedroom apartment in Mission Hill at $6,400 per month.
Maya Gogia, a junior in the School of Hospitality Administration, said the Boston University (BU) Housing, Sublets & Roommates Facebook page helped her compare listings.
"I used it as a gauge to see where other people were living off campus as this was my first time," Gogia said. "I wanted to see what places were most common and had reasonable prices."
Jake Mellen, a junior studying sociology in the College of Arts and Sciences, also said he found his off-campus housing on the page.
"Everyday when I woke up I would scroll down and see the new post," Mellen said. "One day, a  guy posted and was looking for someone to sublet for the spring and the summer, and I started talking to him, and it worked out for the both of us."
While Mellen said that the online process simplified his off campus housing search, others said they were not as fortunate.
"I was talking to a friend, and they actually got scammed," Mellen said. They thought they [the owner] were legitimate, and then gave her money. They lost a bunch of money from that."
For students looking for a place to live who use the online approach, scams are not a rare occurrence.
Timmy Huynh, a rental and sales associate at Comm. Ave. Associates, said he witnessed a scam with a student.
"They paid the money via a wire or something, and then the person said, 'OK, we got the money, now meet me at the apartment, and I'll get you the keys,'" Huynh said. "They were there the whole day. No one showed up to give them the keys."
In an attempt to reduce the number of scams that occur on these online housing markets, Joyce Wu, a former Zillow software engineer, founded Cluck. Cluck verifies listings by visiting properties that their clients can't go to and taking photos for $49.
"The thing that [college students looking for housing] were telling me was their biggest problem wasn't what I thought would be their biggest problem," Wu said in an interview with Geekwire. "I thought they would be complaining about price and availability, but they didn't say that. They said they ran into scams, constantly."
When asked if he thought Cluck would help his own property search, Mellen said he thought that it would.
"The images that I got for the house that I am now subletting from were not up to date," Mellen said. "It was a lot more furnished, a lot cleaner in the photo. A service like Cluck can make sure that doesn't happen."
Huynh said he was concerned that an online service like Cluck could be inaccurate and lead to mischaracterization of some properties.
"We don't actually have photos of every single apartment in the building," Huynh said. "So what we do is we kind of take a stock photo because they all look the same. So that may or may not work depending on the building."
Huynh also said that users may miss out on properties they would have found with a physical broker.
"By the time [Cluck employees] go through all that and get the results back to you, the apartment may already be rented," he said. "I still think human interaction is a lot better."
Mellen said that despite its potential pitfalls, living off campus is enjoyable because it offers greater freedom and is less expensive.
"You just have to be careful," he said, "and have a mind on you when you're going out and finding it."