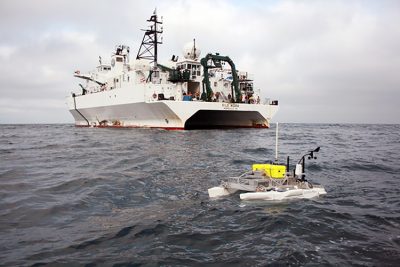 For years, marine ecosystems have been declining. This alarming trend is affecting fisheries from Massachusetts shorelines to seas across the world.
Researcher Ruth Thurstan offered a historical approach to ocean conservation strategies in a seminar Friday at Boston University's Frederick S. Pardee Center for the Study of the Longer-Range Future.
Thurstan, a lecturer in biosciences at the University of Exeter in the United Kingdom, specializes in marine historical ecology.
When introducing the seminar, Cynthia Barakatt, associate director of the Pardee Center, explained that marine historical ecology is an interdisciplinary approach to understanding how marine and coastal ecosystems may have looked and functioned in the past and how they have been altered over time as a result of human interaction.
Thurstan said she has also always loved history, and that her student advisor in graduate school, University of York professor and author Callum Roberts, "was really interested in the history of the changing oceans."
She read and was greatly influenced by his book, "The Unnatural History of the Sea," she said
"I was utterly hooked," she said.
Thurstan is the co-chair of the Working Group on the History of Fish and Fisheries, one of the many working groups of the International Council for the Exploration of the Sea.
Once a year, the group of professionals of ICES ranging from historians to ecologists come together to look at the patterns and drivers of change in ecological systems in order to properly inform policymakers, according to the lecturer.
Barakatt said Thurstan's work reflected the ideals of the Pardee Center.
"A major goal of the Center is not only to do scholarly research, but to make it accessible to decision makers," Barakatt said in an interview.
Marine ecosystems have changed immensely over time, Thurstan said in her talk. She explained "shifting baselines syndrome," in which each generation remembers a different ecosystem as being natural, potentially blinding different generations from seeing environmental destruction and its full extent.
"Huge changes can occur over the course of one person's lifetime," she said.
After receiving her doctorate in environmental economics and management from the University of York in the UK, Thurstan spent four years at the University of Queensland in Australia for a postdoctoral fellowship.
It was here that she pored through approximately 500 newspaper reports, dating back to the late 1800s, and compiled the information into trends showing the estimated population size of snapper fish in fisheries and their catch rates, she said in the talk.
"For me, the main point of the research was just to inform people … that the state and health of our oceans is not static," she said in an interview. "Once we know what the state of the oceans are like, we as a whole can start making informed decisions."
According to Thurstan's research, by the 2000s, there was an 89 percent decline in the the number of fish caught by fisherman per hour. She said fisheries exploit populations of fish.
According to a 2015 report by the World Wildlife Fund, there was a 49 percent decrease in global marine life populations from 1970 to 2012. The study examined trends in 1,234 species of aquatic birds, fish, mammals and reptiles.
The WWF report stated that a variety of human activities have contributed to this decline, including overfishing, coastal development and pollution.
The lecturer said that consumers can educate themselves on and advocate for the different fish that are sustainable to eat by "asking questions of restaurants and supermarkets about what they are doing to sell more sustainable fish."
Thurstan said she is now interested in looking at trends of marine ecosystem services using a historical ecological approach. In an interview, she said humans gain various services, such as food, recreational activities and spiritual wellbeing, from an ecosystem.
Thurstan's work, Barakatt said, is "a really good example of the importance of interdisciplinary research." Barakatt added that interdisciplinary work is important, and that academics need to be more open to it.
Rebecca Fuhrmann, a freshman studying anthropology in the College of Arts and Sciences, is from a coastal town in Maryland. Her community largely depends on the Chesapeake Bay as a hub for fishing oysters and crab, she said.
"When you overfish and you take away from local fishermen … you detriment an entire style of life," she said. "It's detrimental to the earth and to the people."