Backstreet's Back … again.
Since their start in the early 1990s, the Bac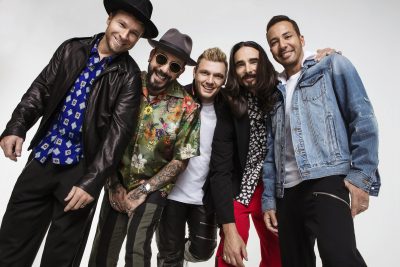 kstreet Boys have changed their image, identity and sound time and time again. In the process, they have given the world dozens of classic hits that have served as beloved anthems for all ages.
Now full-grown men with an updated sound, America's favorite boy band released their 10th game-changing album, "DNA," on Jan. 25.
The group has revitalized its sound to reenter the world stage as a show-stopping yet timeless act, earning their first Grammy nomination in 17 years and their first song on Hot 100 in 11 years.
"DNA" and an accompanying world tour were announced on Nov. 9. With a few months' anticipation, the group has delivered an evolved yet familiar voice that will both attract new listeners and pull back adoring fans.
With many talented and famous writers contributing to tracks, including Andy Grammer, Shawn Mendes, Lauv and OneRepublic's Ryan Tedder, the album represents a modern and collaborative musical creation.
"DNA's" lyrics are colored with the Boys' harmonic compatibility for which they have long been famous. It shines through especially in the romantic ballad "Breathe," a relaxing tune from the first two dynamic jams that open the album.
The acappella track allows true fans to close their eyes and be transported back to BSB's first album, a testament to the band's commitment to their roots.
"DNA's" organization is true to the band's original style as well — a well-balanced mixture of energetic bops paired with effortless, beautiful ballads that showcase pure vocal power.
"New Love" and "Passionate," placed back-to-back in the middle of the album, are more mature stories that communicate the band's adulthood.
Grown-up themes based in sex and relationships are revealed through lyrics like in "New Love": "I don't wanna know your name / Just let me do what I do," and have abolished the naivete left over from the 90s.
Even so, the Boys have retained the classic romantic motifs that attract so many female listeners.
With almost every song related to relationships or love on various levels, including leading single "Don't Go Breaking My Heart," the group is still dedicated to romancing fans of all ages.
"Is It Just Me" explains relationship paranoia in an ever-relatable way, working to connect with fans' common romantic problems. The song's passion communicates a personal catharsis for the band members.
While BSB has remained relatable in lyrical content, their musical style emerges in a new way through "DNA."
Their pop melodies have always been prominent throughout their discography, yet their influences have evolved since their start more than two decades ago.
They were introduced with R&B influences, shown through songs such as "As Long as You Love Me" from their first, self-titled album in 1997 and "Larger Than Life" from "Millennium" in 1999.
In the early 2000s, a pop-rock fusion sound blossomed from the group. Songs such as "Just Want You to Know" from the 2005 album "Never Gone" and "Straight Through my Heart" from "This is Us" in 2009 showcased stronger percussion and more prominent guitar.
In the 2010s, BSB's songs introduced more electronic components, supplemented with acoustic ballads and honest tunes. Starting with "In A World Like This" in 2013, the band continued their modernizing trend.
With more fluid background, smoother guitar and softer drums, vocals boast a stronger presence and allow for a more modern sound.
The band breaks out an instrumental edge on "DNA," with guitar and light percussion present in lighthearted, sweet songs like "OK" and "No Place."
"DNA" inspired a world tour, their biggest in nearly 20 years. It will start on May 11, 2019, in Lisbon, Portugal, and continue throughout Europe, Canada and the United States into July.
Unlike other acts of the same era, BSB has managed to stay relevant almost 25 years following the release of their first album.
Remaining a treasured entity in millenial pop culture, the popularity of the Backstreet Boys will only grow with new generations as the group continues to inspire emotion, romance and musical evolution