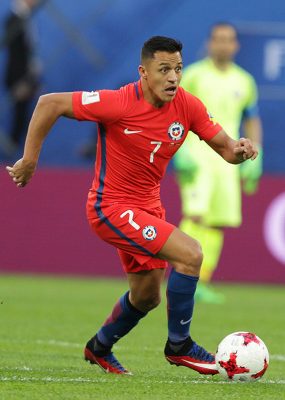 Having been an Arsenal fan since the age of nine, I have grown up on a staple diet of quiet apprehension, guarded hope and regular doses of disappointment. Additionally, a dislike for Manchester United was another huge component of my mental hardening.
The Arsenal-Manchester United rivalry isn't like your traditional rivalry. It doesn't stem from adjoining fault lines, but rather a deep hunger to be the best. The Premier League title was claimed by either North London or Stretford between 1996 and 2004, in a period marked by this great premiership rivalry.
Think of the rivalry like a two-act play, replete with drama, action, emotion, heroes and villains. This fixture defined players. A good performance in this game endeared you to the fans, and a bad one endeared you to the opposition's. Rule No. 1 of soccer: the fans never forget.
Henry's flick and volley over Barthez in an October 2000 game was his first step toward greatness, and Giggs' mazy FA Cup semi-final run in May 1999 immortalized him. But, in the same breath, the missed penalties of Nistelrooy and Bergkamp are etched in the memories of Arsenal and United fans, respectively.
Tensions ran high, and there were times when the theatrics would start before the curtain had even been raised. Fireworks were a given, it was just a matter of when. The Viera-Keane bust-up in 2005 is one such iconic moment, when the two captains had to be pulled off each other in the tunnel a couple of minutes before they walked out on the pitch.
Contrast this with the present day, where you regularly see players hugging the opposition and being amicable. Out with all this niceness! Manchester United versus Arsenal was war.
This crazy, crazy show was directed by the men from Aberdeen and Strasbourg. Apart from just orchestrating their teams, the two managers would be involved in their own war of words, either on the touchline or through the media.
In the Fergie-Wenger years, this game was 12-on-12. Post-2004, the rivalry waned as Arsenal fell far behind United. Since then, the Mancs have won five championships.
Arsenal and Man United is a weird marriage. And ever since Ferguson left the Red Devils, it's only gotten stranger. With such a gaping hole in the Old Trafford dugout, Arsenal should have taken complete advantage of this change in guard. But alas, in a manner that seems almost deferential, they couldn't assert complete dominance over them. We were better, but only just.
The rivalry died between the players, but not the fans. I despised the fact that the referees seemingly always sided with United. I couldn't fathom how, no matter how bad they were playing, they still always managed to pummel us.
When we lost 8-2 in 2011, my phone didn't stop ringing with calls from United fans after every goal and a whole lot of other condolence calls. I couldn't show my face in school the next day.
Add to this the fact that they bought two of our best players in their prime, for a total of 24 million euros ($27 million) and one injury-prone right midfielder, only compounded my angst. When Van Persie scored against us, I thought things couldn't get much worse. Then, six months later, we gave him a guard of honor at the Emirates.
But mostly, I just hated the fact that they won so much. Seeing their fans gloat about their trophies and glory laid the foundations for my ABU mentality – Anyone but United.
When the draw pitted Arsenal and United together for the FA Cup this year, I was genuinely excited. After what seemed like an eternity, the two teams were finally at the same level.
The fact that this level was just about edging mediocrity was irrelevant. Both teams were in the toddler years of new eras, helmed by two managers trying to build their own legacy. A victory wouldn't just be a path to the next round — it would be a statement.
Watching Sanchez walk out onto the Emirates left me licking my lips. "I really hope Koscielny takes care of him," I told a fellow Gooner watching the game with me.
Thirty minutes later, Sanchez scored. And not just scored, but celebrated, too. And just like that, the drama was back.
OK fine, we did lose 3-1, but the scoreline is largely misleading. The game was end-to-end, tight and had bite — something that has been lacking in recent times. With better finishing, this game could have easily been a 3-3.
It happened sometime late in the second half, with the game all but over, when the ball rolled out of play by the touchline in the Arsenal half. Kolasinac squared up against Rashford after their collision, and he had barely bumped his forehead against Rashford when Lingard came flying out of nowhere for his neck, and all hell broke loose.
Suddenly, a minor scuffle had turned into a full-blown fight, complete with arms being thrown, heads being bumped and a wild Guendouzi and Lingard right in the thick of things.
Passion. Pure, unadulterated passion. It's Arsenal versus United, perhaps it's time to expect fireworks again.