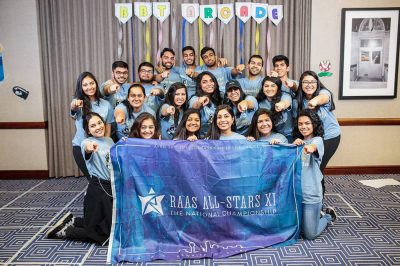 A buzz filled the John Hancock Hall in Back Bay as students, parents and dance enthusiasts alike waited in eager anticipation Saturday evening. As the excitement rose, the night's emcee introduced two student singers, who led the audience in reciting both the United States' Star Spangled Banner and India's Jana Gana Mana.
Then, "Boston Be Taali 2019" kicked off.
The first-year competition hosted college dance teams from Indiana to Pittsburgh to Boston, all prepared to showcase their Raas and Garba dance routines. Some Raas teams came with hopes of reaching the national Raas All-Stars competition.
Raas is a dance classically performed with sticks and rotating partners and is associated with the Indian deities Durga and Krishna, according to an article by Lincoln Center. Garba is a Gujarati folk dance style consisting of claps, snaps and twirls to the beat of music.
Raj Patil, the head liaison for Boston Be Taali, said the competition helped him celebrate his heritage.
"I've grown up in the Indian community, so I've always gone to Garba and Raas," Patil said. "[They are] important to me in a social aspect and a religious aspect, but I also feel like there are a lot of people who come to school kind of white-washed, so they want to meet other people of their culture and travel across the country. That's what Raas does."
Throughout the competition, the juxtaposition of two cultures and two identities was on display, as each team's classical Raas performance centered around a specific American theme, Patil said.
"It's cool because it's contemporary, and people will understand it more," he said. "But it's also traditional, so it's a good mix of both worlds."
Hernisha Radia, a junior in the College of Arts and Sciences, is captain of BU's competitive Raas team, Fatakada, and said multiculturalism influenced her team's dance routine, as they are mostly Indian-American.
"All of us actually grew up here, we went to school here," Radia said. "But we're also connected to our roots through our family. Yeah, there are Indian themes like the Ramayana, the Mahabharata, classic themes like that. … But that doesn't really connect as well as American culture does for us."
Fatakada decided to center Fatakada's routine around the theme of high school prom.
"Everyone went to prom. There's not a single person who grew up here who didn't go to prom," Radia said. "It's really about making that connection with us to our audience."
The night also featured performances from local exhibition teams including the New England Bhangra Club, BU Jalwa and the Indian classical dance team, BU Dheem.
Aqsa Momin, a co-captain of BU Jalwa, said her team's fusion style draws strength from the varied dance backgrounds of its members.
"It helps us make sure that whatever dance style we're doing is true to the actual dance style and not just a dumbed down version," she said.
Momin said there was a sense of teamwork, connection and friendship in every move and step that made their performance possible.
"The word 'Jalwa' means charisma and passion," she said. "It's really just an organization there to combine passionate people with charisma on stage for what we love to do."
Mili Shah, a former member of New York University's Raas team, attended Boston Be Taali. When asked if she felt a connection to the performers, Shah said she did.
"When the first act came on, I literally almost had tears in my eyes," Shah said. "It's like memories coming back. To all the teams, keep up the spirit, keep up the tradition and have fun."
Keenul Patel, a CAS sophomore who attended the event, also said she felt a strong connection with the teams and the Indo-American culture they represented.
"I love Raas, I've been watching it since I was little," Patel said. "I felt like I was dancing with them on stage, I felt my feet moving whenever their feet were moving. … I hope more people keep coming, and the show continues to get bigger and better."
Later in the night, the first and second place winners — Saint Louis University Raas and University of Connecticut Thunderaas, were announced.
At the end of the evening, the seven dance teams, the event's executive board members, the judges and the event sponsors took the stage to a cheering audience.
"We're a really happy team," Radia said about BU's Fatakada. "We just like connecting with others."