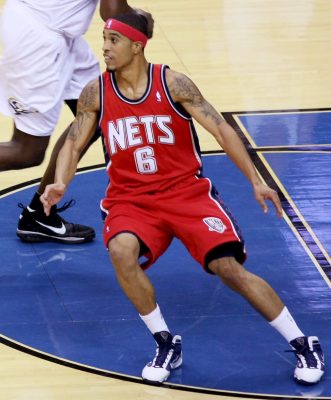 After word leaked at the crack of dawn Monday that Anthony Davis had requested a trade, every basketball fan is now focused on where The Brow will end up either before the Feb. 7 deadline or at the beginning of next season. If and when the Pelicans decide to move him, it will change the entire landscape and portrait of the NBA.
However, Davis will certainly not be available to everyone. Not every team has the players, draft picks, tampering department or whatever else is needed to trade for one of the most talented players the league has ever seen.
What every team does have, though, is the ability to trade for a fringe starter or talented bench player that can swing a playoff contender to championship caliber or a borderline playoff team to one suiting up deep into April.
Sometimes, all it takes is one or two moves, and a team starts to play much differently. Sometimes, teams have little gaps to fill, and once they're filled, things start to run like a well-oiled machine.
Just last year, the 76ers made moves for Marco Belinelli and Ersan Ilyasova, two bench players who had instrumental roles in the postseason and helped Philadelphia advance to the second round. The Pelicans added Nikola Mirotic, a stretch four who added a whole new dynamic to their offense.
This year, with the abundance of Western Conference teams vying for a playoff spot, only six teams come off as clear sellers at the deadline: the Knicks, Bulls, Cavaliers, Hawks, Grizzlies and Suns.
From those teams, I have compiled five players that could help any one of the many contenders hoping to make the playoffs this season.
Courtney Lee
Although he has played in just 12 games this year, Courtney Lee could still serve a major role in the upcoming playoffs. In his 10-year NBA career, he has hovered around 40 percent shooting from three and has been a strong wing defender. In today's NBA, you cannot have too many players that can shoot the long ball and play defense.
The Knicks have already made Lee available along with shooting guard Tim Hardaway Jr., but Hardaway is on a deal that pays him $18 million for next season with a player option for almost $19 million in the 2020-21 season. Lee is on a cheaper deal that expires after next year, which makes him more attractive to a larger number of teams.
Potential Fits: Houston Rockets, Sacramento Kings, Oklahoma City Thunder, Utah Jazz
Lee could be the next wing in a long line of Rockets players not named James Harden that just stands around the perimeter, watching Harden dribble and waiting to shoot a three. He could also help a Sacramento Kings team that loves to hoist the long ball but is having a hard time stopping teams on the other end.
The Thunder or the Jazz could also use him as another piece on their already great defensive teams.
Robin Lopez
With the Chicago Bulls going nowhere fast, it makes no sense for them to keep Robin Lopez, a veteran center whose contract expires after this season. This year, Lopez has played in 43 games but averages just six points and three rebounds in 16 minutes.
Clearly, this is a result of the Bulls wanting to play their future frontcourt Lauri Markkanen and Wendell Carter Jr. over the 30-year-old Lopez. Even so, the grungy-looking center has something to offer for potential playoff teams.
The last time he was in the playoffs, Lopez averaged 12.7 points on 65 percent shooting from the floor and 7.2 rebounds for the Bulls. In the first round in 2017, he torched the Celtics with endless mid-range jump shots and back-breaking offensive rebounds.
Before Rajon Rondo injured his hand, the Bulls looked like they were going to advance in large part due to the efforts of Lopez. Maybe he could dust off some of the cobwebs in his hair and help someone out in a similar fashion this season.
Potential Fits: Milwaukee Bucks, San Antonio Spurs, Charlotte Hornets
All three of these teams rank toward the bottom of the league in offensive rebounding, and all three lack a clear backup center. In Milwaukee, Robin could back up his brother Brook and give the top team in the league some rebounding in the playoffs.
In San Antonio, he could take over for Pau Gasol, who has looked terrible for the Spurs after returning from an injury. For the Hornets, Lopez could fill a void at center left by Cody Zeller, who has been out with a broken hand. Bismack Biyombo and Willy Hernangomez have not done anything in Charlotte to show that they deserve minutes in the playoffs. Maybe Lopez can.
Richaun Holmes
In his short four-year career, Richaun Holmes has not played a ton of minutes. Injuries have kept him off the floor, and he gets in foul trouble pretty easily. But one thing always remains constant: Holmes plays every minute like it's his last.
Every night, he plays as if the Suns are battling in game seven of the NBA Finals. On a random Tuesday with a quarter of the stands filled, Holmes will get in the trenches and fight. The only problem with that is Phoenix has been sitting in the abyss of the Western Conference for the entire season.
If dealt to a contender, he could help with offensive rebounding and rim protection off the bench. In 46 games this season, Holmes is averaging 8.1 points, 4.6 rebounds, and 1.2 blocks in 16 minutes a game.
What's more, someone who gives his all on the court could help inspire others on the team. Holmes is someone that any coach will love — someone that never quits and always looks to get better.
Potential Fits: Detroit Pistons, San Antonio Spurs, Washington Wizards
In Detroit, Holmes could look to inspire a group that Blake Griffin recently called out for a lack of focus. He would bring energy to a team that certainly needs it. Similarly, Holmes could help out the Wizards, who are relying on Thomas Bryant to give them a bulk of minutes at center and have been known for chemistry issues and uninspiring play. In San Antonio, Holmes would certainly gain the praise of Gregg Popovich and fill in some of their rebounding gaps.
Garrett Temple
When the Grizzlies traded for Garrett Temple last summer, they hoped they would get a reliable veteran leader that could help them in a bounce back season. So far, he has started all 49 of the games he has played in for Memphis and is averaging 9.4 points on 35 percent shooting from three and 43 percent shooting overall.
The Grizzlies got a reliable veteran in Temple, but there have been many bumps in the road for the team overall. After starting the season 16-11, they have gone 4-20 and are now out of the playoff hunt. It's time to start selling, and Temple is someone everyone should have their eyes on.
Potential Fits: Brooklyn Nets, Portland Trail Blazers, Sacramento Kings
While all these teams shoot the three-pointer well, they lack veterans that play significant minutes. Brooklyn and Sacramento have been the surprises of the NBA this season, but the Nets' average age is 25.8, and the Kings' is 25.7.
For the Nets, top players D'Angelo Russell, Spencer Dinwiddie and Caris LeVert have not sniffed the postseason. The same can be said for De'Aaron Fox, Buddy Hield and Willie Cauley-Stein for the Kings. Temple is no LeBron James when it comes to the playoffs, but a veteran presence on young teams could help down the stretch.
For Portland, their backcourt duo of Damian Lillard and CJ McCollum have played past the regular season for five straight years, but not many on the bench have played significant minutes in the playoffs.
Dewayne Dedmon
Out of all players in this category, Dewayne Dedmon is probably the most desired. He is the perfect center for the current NBA, one who shoots threes at a 37 percent clip on three attempts per game. After attempting one three in his first four seasons, Dedmon transformed himself. He has taken more than 250 triples in his last two seasons with the Atlanta Hawks.
Dedmon isn't the best defender you'll ever see, but he does average one block and one steal per game. His primary value on the defensive end is rebounding, where he uses a seven-foot, 245-pound frame to grab almost eight rebounds in less than 25 minutes a game.
Even though the Hawks have outperformed their expectations and Dedmon has been a big part of their success, it makes sense to sell high on Dedmon now. At 29 years old, his timeline does not quite match up with Atlanta's top draft picks from the past few seasons — Trae Young, Kevin Huerter and John Collins. Dedmon should be helping out another team as a grizzled veteran once Young, Huerter and Collins start to hit their prime.
Potential Fits: Los Angeles Lakers, Oklahoma City Thunder, Toronto Raptors
Even though more than just these teams will be interested in Dedmon, the Lakers, Thunder and Raptors are teams with finals aspirations and would probably push harder for a deal to outbid the others.
Once LeBron gets back in the lineup for LA, the Lakers should surge up the standings like they were before the King went out with a groin injury. As with any LeBron-led team, three-point shooting is a necessity.
At the moment, Lance Stephenson is the only Lakers player shooting above 35 percent from three who hasn't betrayed his hometown twice in five years. Dedmon can change that.
For the Raptors and Thunder, Dedmon could come off the bench to provide quality shooting and rebounding. In the playoffs, you can't have too much shooting on the floor. For two teams that lack quality stretch big men off the bench, Dedmon is their best option on the open market.