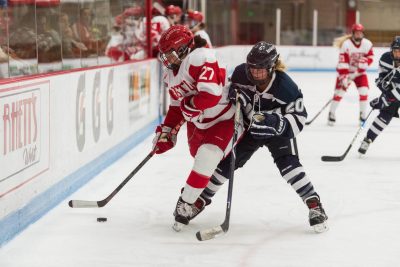 After playing a home-and-home series against Merrimack College last weekend that was not short of action, Boston University women's hockey will be back in action in Burlington Friday night against the University of Vermont.
The weekend series against Merrimack (14-9-4, 10-8-2 Hockey East) saw Terrier sophomore forward Kristina Schuler score three goals —  two on Friday and one on Saturday. She now totals four goals on the season.
Before the Merrimack series, it had been a trend that junior redshirt captain Sammy Davis and sophomore forward Jesse Compher were leading the team's offense.
Now, players such as Schuler and linemates sophomore Nara Elia and junior Deziray De Sousa, are showing up in the box score and contributing to the offense. Elia and De Sousa assisted on two of Schuler's three goals against Merrimack, and the duo also picked up helpers on freshman forward Emma Wuthrich's goal in the Friday leg.
Vermont (7-16-4, 5-13-2 Hockey East) sits in ninth place in Hockey East, right behind the University of New Hampshire (11-12-4, 8-11-1 Hockey East).
Despite their distant records, Boston University (14-6-6, 11-5-5 Hockey East) head coach Brian Durocher said that the Catamounts are still in a fight for pride against UNH.
"They're in a battle with [UNH]," Durocher said. "They try and get one game a year where they get as many people from the campus and community and pack the [stadium]."
Rather than having two offensive juggernauts in Compher and Davis like the Terriers do, the Catamounts have three players leading their charge, although they don't tally as many goals as Compher and Davis.
Catamount forwards Eve-Audrey Picard, Kristina Shanahan and Saana Valkama lead the Catamounts in goals, respectively.  Pickard has seven, and Shanahan and Valkama both have five.
Pickard is likely a familiar face to the Terriers, as she prevented them from a series sweep back in November by tying the game late in the third period.  The score remained that way through overtime, and the Terriers settled with a tie.
Once the Terriers finish in Burlington, they will shift into Beanpot mode to face Northeastern University (19-3-3, 17-2-2 Hockey East) Tuesday at 5 p.m. at Harvard's Bright-Landry Hockey Center.
Durocher said the beanpot becomes a frequent topic of conversation in the clubhouse around this time of the season.
"Because the beanpot comes up in February, it's not a conversation that is had for the first three or four months of the year," Durocher said. "But when you get to the back half of the season, there's no question that they'll be excited and ramped up for that."
BU will come into this year's tournament remembering last year's overtime 3-4 loss against Boston College in the finals. The Terriers have not won a Beanpot since 1981.
"It's something that hasn't treated us very well," Durocher said. "But we played really well last year, [we] came really close, and I know they'll be ready when the puck drops."
Still, Durocher said, the team's focus is first on Friday's game against the Catamounts.
"Our task, as it always is before the Beanpot, is to get point up there and get a win up there," Durocher said.  "We'll worry about Tuesday on Saturday, Sunday and Monday."