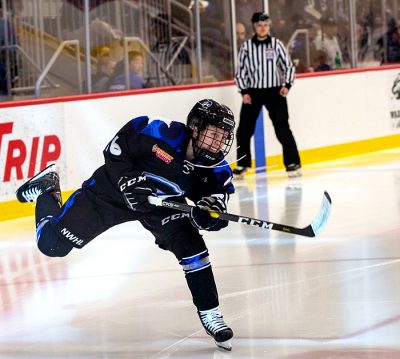 Want to know something that is incredibly frustrating to women who are currently in or looking to work in the world of sports? Constantly having to deal with condescension from people who still believe women cannot be experts in, and do not belong in, the world of sports.
It's 2019.
Women can be amazing athletes.
Women can be expert sports reporters, analysts and commentators.
Just because these women did not play in the NHL for years does not mean they cannot be experts at their craft.
Just because these women are not men does not mean they cannot be experts at their craft.
Why open with these statements?
Two nights ago, Kendall Coyne Schofield made her debut on NBC Sports as an analyst for the channel's Wednesday Night Hockey matchup between the Tampa Bay Lightning and the Pittsburgh Penguins. Pierre McGuire, a resident analyst for NBC Sports, was also on the broadcast with her.
For those who are unfamiliar, McGuire has been working for NBC Sports as an analyst since 2006. He played hockey in college, but never made it to the NHL.
Coyne Schofield, on the other hand, is an Olympic gold and silver medalist for the U.S. women's national hockey team. She also has five gold medals from the World Championships under her belt.
Coyne Schofield has no doubt proved that she is an elite athlete. In recent weeks, she's made headlines for being the first woman to compete in the NHL All-Star skills competition.
On Wednesday night, Coyne Schofield made headlines yet again, but this time it wasn't due to her stellar performance on the ice. Instead, it was what McGuire said to her during the Wednesday Night Hockey broadcast.
"So, Tampa's going to be on your left, Pittsburgh's going to be on your right," he said. "What are you expecting out of this game? We're paying you to be an analyst, not to be a fan tonight."
How did Coyne Schofield respond?
With a quick "uh, yeah," she launched into her analysis, and no mention of the fact that McGuire tried to mansplain, as many headlines put it, hockey to a professional hockey player.
The culture around women in sports will never change until the major organizations that supply the sports broadcasts, articles and content actually make an effort to change them.
If a company is going to hire women, they need to actually believe in the women and convey that belief to their audiences. Yes, the number of women in this field is rising, and that's definitely a step in the right direction. Despite this, McGuire's comment is not the first time, nor will it be the last time, that a company knocks the women that work for them.
Take, for example, Andrea Kremer and Hannah Storm's play-by-play broadcast on Amazon. They were the first all-female play-by-play duo to broadcast an NFL game, but their stream was difficult for viewers to find. Amazon automatically streamed the Fox Sports broadcast, while the women's stream was accessed through the audio settings, a menu many have never had to use to access content before.
It's never really a good sign when a company has to create ads teaching users how to access a stream they made sure to repeatedly advertise for.
In situations like these, it needs to come down to accountability. Many hockey reporters and fans alike took to calling McGuire out, but there was no word from NBC Sports.
At the end of the night, Coyne Schofield tweeted about how much fun she had and how grateful she was to NBC Sports for giving her the opportunity to be an analyst.
It probably wouldn't be a stretch to assume she was insulted by the comment but didn't want people to say she's being mean or ungrateful by speaking out against it.
NBC Sports refusing to acknowledge that McGuire clearly treated Coyne Schofield as if she wasn't an Olympic gold medalist that has more experience playing professionally than McGuire will ever have conveys the message that this narrative toward women in sports is acceptable. It conveys the message that this behavior can and should be perpetuated.
If there is going to be any actual change to make men and women equal in the world of sports, it needs to start at the top.
They need to hold analysts as well as everyone else in their organization accountable. They need to outwardly treat the women working under them equally so that they can send a new message that the standards for treating a woman in sports are just as high as those for a man.
These organizations need to stop treating women as a social media ploy created for the sole purpose of gaining publicity.