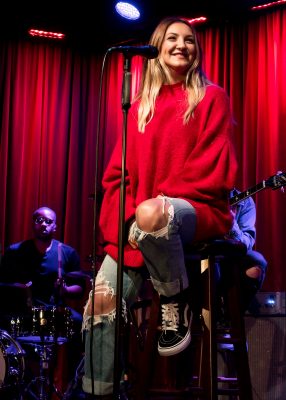 Two-time Grammy nominee Julia Michaels released her second EP, "Inner Monologue Pt 1," Jan. 24 in the wake of the success of her 2017 debut EP, "Nervous System."
Michaels spent several years as a songwriter, crafting hits "Sorry" for Justin Bieber and "Good for You" for Selena Gomez, but she has only recently made the decision to write music for herself.
The decision has served her well. Last year she was Grammy-nominated for Song of the Year and Best New Artist. Her hit song "Issues" is a three-time Platinum track in the United States. Michaels is an artist to look out for, especially with her incredible lyrics and unique voice.
However, "Inner Monologue" may have fallen short of expectations. Most of the songs that stood out did so because of their big-name features. Several of the tracks felt like they had been half-finished in production.
"Anxiety" may be one of the more well-received tracks on the EP, especially since it has a feature from Selena Gomez. The song outlines both singers' journeys with anxiety and mental health.
Both artists sing in a rambling manner throughout the song, possibly detailing the thoughts that would go through their heads. Lyrically, the song does a fantastic job of sharing the "inner monologues" of both artists and their relationship with depression.
The track's opening line underscores this: "My friends, they wanna take me to the movies / I tell 'em to f–k off, I'm holding hands with my depression." This serves as a blunt way of saying, "Yeah, I do suffer from a mental illness. Now listen to my story."
While it is great that mental health is becoming less stigmatized in mainstream media, the production of "Anxiety" felt too bare and incomplete.
Maybe Michaels intended the song to be written as such to make the lyrics sound more vulnerable — lyrics are her strong suit, anyways. But it just comes off unfinished, especially since neither Michaels nor Gomez have strong voices.
"What a Time" walks listeners through another personal journey. The song details a failed relationship, where the two people are happy it happened and are reminiscing about the times they had together.
The song features Niall Horan, a former member of One Direction. He was a perfect feature for this song, as his voice complemented Michael's well. It almost seemed as if "What a Time" could have even been on Horan's solo debut album, "Flicker," as just a solo.
"What a Time" is lyrically beautiful, but the song lacks something. The final chorus could have been bigger and left more of an impact. Maybe the use of an echo could have elevated the track to make it sound more nostalgic and youthful.
As for the rest of "Inner Monologue," there were some more missteps. The other songs failed to match up to the level of production and lyricism of "Anxiety" and "What a Time."
"Into You" sounds like a song that would be well-suited for a movie soundtrack — it could be easily played in the background of a film, and no one would really notice that the song was playing. Ultimately, the song felt like more of a filler track.
"Happy," to put it simply, is a weird song. Lyrically, it's chock full of Michaels' signature storytelling, but the chorus was off-putting with disharmonious voices and a bare backtrack. The message of the song is pretty clear, but again the production falls short and is unable to support the wonderful songwriting of the album.
It will be interesting to see what direction Michaels takes as she begins to develop her own sound. She has definitely shown that she is capable of producing radio-friendly pop hits, but it feels as if she is steering away from that route for her own voice and music.
Hopefully Michaels can follow her early successes to write meaningful songs not just for other artists, but for herself.