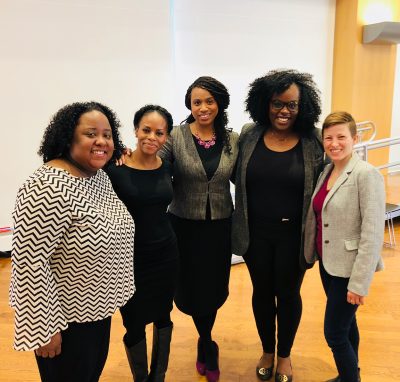 Ayanna Pressley made history as the first African American woman to be sworn in to the U.S. House of Representatives from Massachusetts on Jan. 3, and two weeks later, she announced that a Boston University alumna would be part of her team.
Lynese Wallace was selected by the former Boston city councilor to join Pressley in representing Massachusetts' 7th District as her policy advisor.
After graduating from Sargent College in 2011 and obtaining a master's degree in public health at the School of Public Health in 2017, Wallace has uplifted her Boston roots and planted them down in Washington, D.C.
She said after graduate school, her plan was to go to law school to be a public defender or prosecutor.
"But then 2016 happened and Trump became president, so I put all my effort in working to elect more women and people of color into government," Wallace wrote in an email.
Wallace wrote that her determination to create a fair healthcare system and justice for the unprotected was what pushed her to both attend the School of Public Health and work as a policy advisor.
"I found it to be unjust and unfair and wanted to work within the system to change it," she wrote. "I figured as a policy maker working … inside the system, I could impact the most amount of people possible."
Initially, Wallace wrote she was on an academic track to become a medical doctor. But after taking more classes in the Sargent College of Health and Rehabilitation Sciences, her curiosity for management, operations and policy propelled her to focus more on the technical side of healthcare.
Here, she wrote she met three notable mentors who she remembers fondly — professors Eileen O'Keefe, June Grasso and Sophie Godley.
"Her commitment to issues of social justice and looking at solving problems for people in communities using the tools of policy … was always something that she was engaged in," Godley said. "We're absolutely thrilled that she's gone on to do this work."
Aside from forming connections with her professors, Wallace wrote she and her best friends met freshman year in Sleeper Hall. Their weekend routine involved watching Grey's Anatomy on DVDs in big box sets, since streaming was not prevalent.
"To think its been over a decade and those same people I met Freshman year are marrying their college sweethearts or asking me to serve as a bridesmaids in their wedding is the best gift BU ever gave me outside of an education," Wallace wrote. "It was at that school where I met my chosen family and that is the best memory of them all."
According to Wallace, working behind the scenes to represent the district where she once had Grey's Anatomy marathons is exhilarating and a balance of fun and challenging days.
"Everyday is different but the passion and values you bring to your work tend to be very constant," Wallace wrote.
She wrote that she deals with issues ranging from domestic and sexual violence to agriculture.
Wallace said some of her and the legislative team's responsibilities include advising Pressley on how to vote in Congress, meeting with national and local stakeholders on the congresswoman's behalf and communicating with congressional caucuses.
While Wallace uses her voice to advise Pressley, she wrote that there's more to do than the daily dose of debate and meetings. Specifically, she said she is most excited to start drafting legislation and helping to advance bills that "impact the lives of those who don't often feel heard or seen."
"It's been our guiding principle that 'the people closest to the pain should be closest to the power driving and informing policymaking,'" Wallace wrote.
Sarah Groh, Pressley's chief of staff, said that she hopes the newly-elected class in
will bring about impactful change.
"I hope that they can restore people's faith in the government as a partner," Groh said.
Godley said that Wallace's passion for advocacy and policy issues drives change with the current political climate of the country.
"Now more than ever, we need people like Lynese who are committed to issues of equity," Godley said, "and understanding the social determinants of so many of the problems that we face as a country."
CORRECTION: A previous version of this article stated Lynese Wallace graduated from the College of Arts and Sciences, when in fact she graduated from Sargent. An updated version reflects this correction.