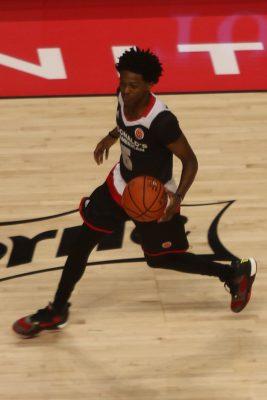 It has been 13 long, rainy, hopeless years of despair for the Sacramento Kings.
After making the playoffs for eight straight seasons from 1998-2006, including a memorable Conference Finals appearance against the Lakers in 2002, the Kings have not sniffed postseason basketball.
Year after year, those in Sac Town were witnesses to one of the most dysfunctional franchises in all of sports. Even after they became yearly attendees of the draft lottery, almost none of their picks panned out, and no free agent dared to dip a toe in an infected franchise.
In the past 13 years, the Kings are responsible for some of the worst moves in NBA history.
In 2009, they selected future Rookie of the Year Tyreke Evans with the fourth pick. Unfortunately, it was a downward spiral after that for Evans. Just three picks later, the Golden State Warriors took Stephen Curry, who is a little better than Tyreke Evans.
Two years later, they traded down to acquire Jimmer Fredette, one of the most exciting college basketball players we have ever seen. But his game of shooting long contested threes and playing no defense didn't translate to the NBA. With the next pick, it was the Golden State Warriors again who took advantage. They took future star Klay Thompson, who is a lot better than Jimmer Fredette.
Other than ruining a chance to have the best shooting backcourt in NBA history, the Kings also gave away the picks that they got right.
In the summer of 2014, they traded former last pick of the draft and 20 point scorer Isaiah Thomas for Alex Oriakhi and a trade exception. Thomas went on to become a two-time all-star and earned MVP votes for the Boston Celtics. For all I know, Oriakhi is selling surfboards somewhere on the sandy shores of Guam.
They also waived second round pick Hassan Whiteside, who has since averaged 14 points, 12 rebounds and 2.5 blocks in 4-plus seasons with the Miami Heat. That might be someone you shouldn't get rid of for nothing.
Yet somehow after "rebuilding" — or being just plain awful in every possible way for over a decade —  the Kings have something.
In March of 2015, current General Manager Vlade Divac took over and seems to have put the Kings in an extraordinary position moving forward.
Now, don't get me wrong, he still hasn't been able to completely rid himself of the Sacramento stink. In his first summer as general manager, Divac attached two very valuable first round picks to a trade with the 76ers to free up cap space.
The first of those picks ended up in the hands of the Boston Celtics, who selected Jayson Tatum, a player who looks like he can be a generational talent. The second of those picks conveys in this year's upcoming draft.
With the cap space, the Kings signed Rajon Rondo, Marco Belinelli and Kosta Koufos. Only Koufos lasted more than a year on the roster, and he has averaged just six points and six rebounds in three-plus seasons.
Still, in that trade with Philadelphia, the Kings acquired a 2017 first round pick that was used to select their current point guard, De'Aaron Fox. Earlier in 2017, they traded their unhappy star DeMarcus Cousins for a package that included Buddy Hield and a pick that would lead to the acquisitions of Harry Giles and Justin Jackson
In 2016, the Kings traded first round pick Marquese Chriss for a package that included current guard Bogdan Bogdanovic. Chriss is now riding the pine for the Houston Rockets. You may know him as the guy who never plays.
Then, in this past summer's draft, the Kings selected Marvin Bagley III with the second overall pick.
After three years of moves, all of the young talent the Kings have gathered is resulting in one of the best stories of the 2018-19 NBA season. Dare I say that the Sacramento Kings are the most exciting team in the NBA?
At the helm, the speedy and explosive Fox is starting to break out. He has zoomed past any projections in his sophomore season, averaging 17.5 points, 7.2 assists and 1.7 steals a game — all huge improvements from his rookie season.
He is also shooting 37 percent from three, which is way ahead of the curve for point guards his age. For a player that teams feared would never develop a three-point shot, Fox is already above the league average at 21 years old.
Fox is also a star on defense thanks to his quickness. He gets in the passing lanes, creates steals with ease and is already starting to master the art of the chasedown block.
Next to him in the backcourt is Buddy Hield. In just his third season, Hield is already one of the best shooters in the NBA. He is third in the NBA, shooting a staggering 46 percent from long range. With him and Fox, the Kings are set at the guard position for years to come.
To go with their rising backcourt stars, Sacramento has even more young talent. Nineteen-year-old rookie Bagley is averaging 13 points and seven rebounds in just 24 minutes a game.
Already, he is causing trouble for established big men with his long arms and leaping ability. He will only continue to improve, giving the Kings a rock solid big three of Fox, Hield and Bagley.
In supporting roles, second-year wing Bogdanovic is also intriguing. Double Bogey, which is an excellent nickname, looks like a future knockdown three-point shooter.
Besides just the players, the culture in Sacramento is changing, as well. No longer do Kings teams play in half-empty arenas with fans who have nothing to get excited about. This season the Kings crowd has created one of the more underrated game atmospheres in the league. Clearly, they love this team and show it with deafening cheers at every home game.
As a team, the Kings are certainly in a groove. Players perform synchronized celebrations together on the bench, go crazy when of their young stars makes another dazzling play and simply like playing together.
As we approach the All-Star Break, Sacramento sits just one game out of a playoff spot. The team that for so long made every wrong move, got rid of players at the exact wrong time, the team that was laughed at for years is primed for an extended run of success.
All in all, the Kings matter again. And this time it's for the right reasons.