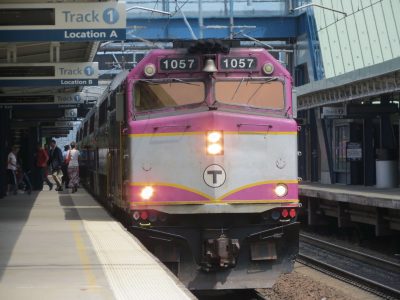 Greater Boston's public transportation system was overwhelmed Tuesday as hundreds of thousands of fans packed onto MBTA trains to attend the New England Patriots' Super Bowl victory parade, setting what is believed to be a record-high level of ridership for the system.
The high volume came in tandem with two separate incidents that occurred on the MBTA Tuesday morning. In Norwood on the Franklin Line a man was struck and killed by a commuter rail train. In Brookline, a Green Line D train derailed, suspending service and forcing residents to take shuttle buses, according to NBC10 Boston.
Tory Mazzola, a spokesperson for Keolis — the company that operates the commuter rail — said that Keolis maximized passenger capacity in preparation for the "historically high levels of ridership."
"What we did in the days leading up is we prepared as many locomotives and coach cars as possible," Mazzola said, "and we actually delivered the highest level of passengers ever on the network."
Mazzola said that when there are large events happening in Boston, commuter rail officials will send trains that fill up after the first several outlying stations straight into the city. Additionally, some trains will hold for longer periods of time at a station to ensure that as many people can board as possible.
"Certainly there is still more people than trains available, that's just a constraint of the network," Mazzola said. "But in terms of maximizing to capacity with the resources as you have, that's the plan we took, and that's the way we maximized what we have available to us with the resources we have available to us with our locomotives."
In preparation for Tuesday's festivities, the MBTA published rider advisories on their website and social media, noting that customers should purchase round trip fares in advance and carpool to stations to prevent overcrowding parking facilities.
"As a result of the anticipated crowds, trains and platforms will experience extremely heavy volume," the advisory stated. "Customers should exercise caution, stay safe, and be prepared for longer commutes and crowded conditions associated with the high demand for service."
Mazzulo said that prior to Tuesday, the record for the most single-day riders on the commuter rail was 225,000, set on Oct. 31, 2018 — the day of both the Red Sox victory parade and Halloween. Though the exact ridership number for Tuesday has not yet been calculated, Mazzulo said he believes Tuesday's ridership "very likely" exceeded that record.
In the end, the Patriots' Super Bowl parade ended up attracting an estimated 1.5 million people to the city, according to CBS Boston.
Christine Cooke, 35, of Tewksbury, said that the crowded conditions caused both her commute and the commute of her coworkers to take longer than usual.
"The guy who works for me, he could not get to work that day because he could not get on the train at Mansfield," Cook said. "He stood there and watched three trains come through the station, but they weren't able to stop and let anybody on because they were full."
Michael Donovan, 26, of Brighton, said his bus to work in the Financial District did not show up on Tuesday, so he had to order an Uber.
"It took about an hour to get into the city," Donovan said. "It was a pain in my butt, I'll tell you that. The whole day when I got into the city, you couldn't even cross the street because there were so many people."
Christopher Hardy, 33, of Brighton, said he took the Red Line to Cambridge from Boston around 10 a.m. on Tuesday. His inbound commute took two hours, as opposed to the 45 minutes it took going outbound.
"It was as bad as I've ever seen it, packed both ways, regardless of going downtown or not," Hardy said. "On the way back, full train, trains going by full. But I expected it, I've seen a lot of these parades."
Joel Lau contributed to the reporting of this article.