Coastal cities such as Venice, Istanbul and Boston have historically been places of cultural importance. Today, they also serve as hotbeds for scientific research and inquiry, as explained in a recent Boston University talk called "Coastal Cities, People, and Waterways."
As a part of BU's ongoing Research on Tap series,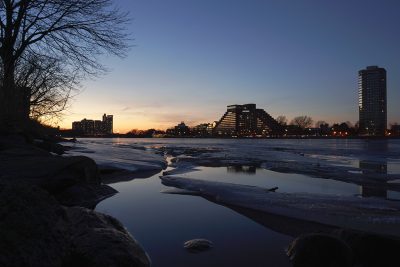 As with previous Research on Tap events, presenters from a variety of backgrounds and areas of study were given about four minutes each to tell attendees as much as they could about their insights on aquaculture.
Along with more foreboding presentations concerned with rising annual precipitation levels or Venice's continuing descent into the Adriatic Sea, Monday's speakers also presented potential solutions for some of the talk's overlapping concerns.
During her presentation, Randi Rotjan, a research assistant and professor of biology, introduced the audience to a New England species of coral, called northern star coral, that could ultimately prove beneficial to the health of waterways.
Rotjan conducted a study that found that northern star coral are more likely to ingest man-made microplastics than brine shrimp eggs, which have in the past been used to digest this type of pollution. With this knowledge, northern star coral could be used to help clean the waterways of microplastics, Rotjan explained in her presentation.
Bruce Anderson, a professor in the Department of Earth and Environment, examined a relatively bleaker topic.
"A physical imperative we are facing is that [Boston is] going to be a flooded city like Venice," Anderson said in an interview. "There's no building around it. People are going to suffer, and it'll depend on social, economic and political will to rebuild."
Anderson's assessment of the data sees at least a three-foot sea level rise by 2070 and a series of monthly floods in certain areas of the city. In his presentation, he said that a five-foot sea level rise by 2100 is a certainty. Graphics accompanying Anderson's presentation showed areas such as South End and Charlestown being especially vulnerable to continued flooding.
Anthony Janetos, director for the Pardee Center and one of the talk's presenters, said not all coastal cities have such dire threats.
"In the vast majority of cases, it's not a negative situation at all," Janetos said. "When it becomes problematic is when we haven't managed the water well or when we've done something to the environment."
While there were plenty of presentations focused on New England, a number of presenters utilized their four minutes to touch on studies from around the globe.
Sucharita Gopal, also a professor in the Department of Earth and Environment, discussed her ongoing research in Cambodia and the effects of recently constructed Chinese dams.
Julie Klinger, an assistant professor of international relations at Pardee, presented her ongoing work with the Yanomami tribe along the border of Brazil and Venezuela, as well as studies that have been done on the nearby Cauaburi River.
Valeria Menendez, a senior in the College of Arts and Sciences, said the Research on Tap talk was insightful.
"I was surprised by how interdisciplinary the event was, with presentations ranging from biology, chemistry and history," Menendez said. "This is definitely the right approach to solve these very important issues."
Following an hour filled with the brief presentations, attendees were given the opportunity to speak more in-depth with the professors while attending to the "on tap" portion of the evening. An amalgam of drinks and an assortment of food was provided to eager event-goers as they sought out presenters to answer their questions and discuss their diverse fields of study.
A variety of Research on Tap events are slated to occur throughout the remainder of this semester, giving the BU community more opportunities to glean large chunks of information in brief segments.
"We look at them as a way for faculty and students to make connections," Janetos said. "We look for new collaborations, we look for new ideas, and we look for new combinations of people working together."