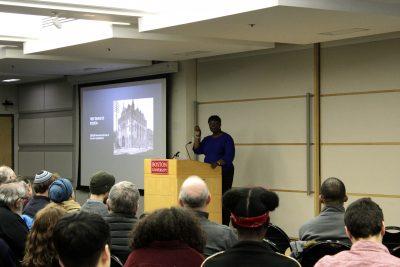 Boston University associate professor of religion Margarita Guillory gave a lecture Thursday about historically overlooked African-American contributions to Boston spiritualism, a religious movement based on mediation with spiritual beings.
The lecture, which took place in the BU Photonics Center, detailed the contributions African Americans made to modern spiritualism despite the oppression they faced. The lecture was attended by professors as well as undergraduate and graduate students.
"The talk seeks to further illuminate interconnections of race, repression and resistance, as these elements occurred in Boston spiritualism," Guillory said. "Especially through the activities of a well-known abolitionist and underappreciated spiritualist of color, William Cooper Nell."
David Frankfurter, chair of BU's Department of Religion, wrote in an email that Guillory would be addressing the "racial dimensions" of the spiritualist world in her talk.
"While [many] people think of "religion" or "American religion" in terms of the history of Christian denominations, or mainstream Jewish and Muslim organizations," Frankfurter wrote, "in fact the history of American religion (especially in Boston) is far more eclectic and weird."
Guillory used the experience of African American spiritualist William Cooper Nell, a Bostonian, as an example of the discrimination in the spiritualist community.
"His expertise of spiritualism did not receive public recognition," Guillory said. "Why? According to him, embedded in both abolitionist and spiritualist circles is what he termed 'colorphobia.'"
Guillory said that Nell provided a written record of his and other African Americans' involvement in the movement.
"Even more, his letters capture the resilience of some African Americans to remain committed to spiritualism despite the variety of ways that race undermined their very ability to be counted as spiritualists," she said. "They resisted."
A large part of Guillory's research, she said, has to do with uncovering individuals that have not been given due credit for their work throughout history.
Guillory added that spiritualism within the African American community has been gaining popularity recently, with many people converting from a Christian faith to more spiritualist beliefs.
"I've seen a shift, particularly with African American women, because many of them are shifting away from very Christianized forms of religiosity, and they're moving towards more esoteric, spiritually based religiosity," Guillory said. "I see a diversification of the religious character among African Americans."
Ruth Dele-Oni, a junior in the Sargent College of Health and Rehabilitation Sciences, said she attended the lecture for class because she found the subject very interesting.
"I love coming to anything that pertains to black people because the representation is slim," Dele-Oni said. "I wouldn't really consider myself a spiritualist, but there's a lot that I agree with."
Dele-Oni said she is very passionate about the issue of erasure of black culture and contributions.
"Black erasure is a huge problem," Dele-Oni said. "People try to downplay the status of black people, or they try to make it something that its not, or they'll try to find a reason of why its happening as a way of putting themselves on a pedestal."
Janice Hagerman, a senior in the College of Arts and Sciences studying religion, said that she is taking one of Guillory's classes and really enjoyed the lecture.
"It's really cool that she's doing research specific to Boston," Hagerman said. "I know that she's done a lot of research before to black christianity, so I mean it's cool that she's focusing in on this specific [topic]."
Simone Buck, a senior in Sargent, said that she is not at all a spiritualist, but she finds the subject fascinating. Thursday's lecture was the first talk Buck had attended about American spiritualism.
"I have read about spiritualism in different parts of the world as like an explanatory model, so I wanted to come and see what this was all about," Buck said. "It's pretty different than other forms of spiritualism that I've seen, … so it was interesting."