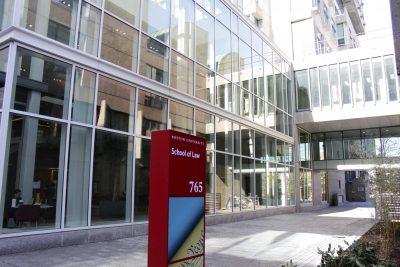 A new study shows that for two years in a row, graduate schools in the United States and Canada have seen a declining enrollment rate for international students. However, this does not seem to be the case for Boston University.
The study, published Thursday by the Council of Graduate Schools, found that for the fall of 2018, application counts from international students declined by 4 percent nationwide.
But according to David Cotter, assistant provost for graduate enrollment management, BU's international graduate enrollment for students has not seen a decline as of yet.
"Council of Grad School is something we follow very closely at Boston University," Cotter said. "It often helps us follow statistics and the trend of the overall graduate programs in America."
Despite the findings of the study, Cotter said, BU has actually seen an increase in international student enrollment.
"It is good, especially because of the political climate," Cotter said. "We are actually leading a webinar about why and how BU is doing better in international graduate enrollment."
Cotter said he believes part of the reason BU hasn't seen a decrease in enrollment is the university's legacy, "openness toward all."
"We have a significant global reputation, as well, particularly in areas like Asia and Middle East," Cotter said. "Our dental school has a great reputation in the Middle East. It is reasonable to say that the Trump ban may have affected the makeup of the class in our dental school, but not as a whole for BU graduate program."
Laurie Nichols, assistant dean of Graduate Affairs in the College of Communication, said that the rates of international student enrollment have been on the rise for several years.
"COM graduate admission hasn't seen a drop in international applications at this early stage in our admission process," Nichols said.  "Our international graduate application numbers were up the year before, as well."
Meredith Siegel, assistant dean of the Graduate Admissions Office in the Questrom School of Business, said the country's recent attitudes toward immigration have caused concern among current and potential students.
"I have a sense that students are nervous about the changes to the H1-B visa process," Siegel said. "With uncertainty around whether they will be able to stay in the U.S. to work after graduating, more international students than in the past are seeking degrees in Canada, Europe or very strong program options in their own countries."
Despite concerns, Cotter said the numbers for graduate enrollment for international students at BU have not declined, which he said could be due to a new initiative by BU President Robert Brown to create master's programs that align with the demands of current industries.
"We've been successful at creating programs in areas in which we have faculty expertise and will serve students well when they have a master's degree in the real job market," Cotter said.
Sabrina Lu, a freshman international student in the College of Arts and Sciences from Hong Kong, said that she didn't have a hard time transitioning to BU.
"I think it's because I went to international school, and people come and go, and you just get used to it," Lu said. "BU is just a new step in life. I currently am not planning to attend graduate school, but if I do, I would stay in the U.S. to complete my studies."
Asia Cesa, a freshman international undergraduate student in CAS from Italy, said that despite missing her home and parents, she does plan to attend graduate school in the United States.
"U.S. has very good schools that have great programs," she said. "Italy is economically in a not very good place. BU was one of my top choices. Boston was a good in-between a massive city and a college town, one of the most international places as a school."
Courtney Zenner, a CAS freshman, said that she believes BU is a welcoming place for international students.
"There are a lot of cultural clubs and communities in BU," Zenner said, "and I love being able to partake those activities on-campus."