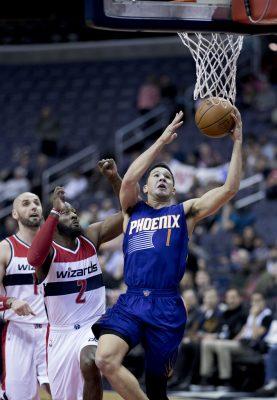 The stars of the NBA will convene in Charlotte, North Carolina, this weekend for yet another All-Star Weekend. I can't think of a better place for multi-millionaires to spend a few days. I can only assume Charlotte makes New Orleans and Los Angeles look like South Dakota.
On Friday, Team World and Team USA will face off in the annual Rising Stars Challenge. Then to start the festivities on Saturday night, point guards and centers alike will compete in the Skills Challenge.
No pre-All-Star Game events are as anticipated as the 3-point contest and the slam dunk contest. Once the high flyers and sharpshooters take the stage, you know something crazy is about to go down. Or maybe not, but we'll still watch anyway.
This year, with a star-studded lineup on deck, many fans are wondering who will go home victorious in the 3-point shootout. In recent years, it has become the most coveted event, replacing the Dunk Contest.
With players such as Chase Budinger, Ben McLemore and James White highlighting the league's "top dunkers" in recent years, it's not hard to wonder why. This year, participants Miles Bridges, Hamidou Diallo, Dennis Smith Jr. and John Collins have combined for an average of 22 minutes of playing time.
The days of Michael Jordan versus Julius Erving are long gone. If only we could coax Jeremy Evans out of retirement.
So stop with the research and calculations, I'm here to give you a somewhat educated guess for who will cement themselves as the top marksman in the league.
Last year in Los Angeles, Devin Booker won his first ever 3-point crown by amassing a record 28 points in the final round. Runner-up and former champion Klay Thompson, who is also participating in this year's shootout, was defeated despite putting up a respectable 25 points.
This year, Booker returns with a big target on his back. I'm sure the rest of the field would like nothing better than to rid Booker of one of his only accomplishments as a member of the Phoenix Suns. Phoenix has not made the playoffs since 2010, when Devin was 13 years old.
Along with the pressure of repeating as champion, history is also not on Booker's side. It has been 11 years since a player won the shootout in back-to-back years, when Jason Kapono won in Las Vegas in 2007 and New Orleans in 2008.
Devin Booker couldn't tie Kapono's shoes. He doesn't have the same pedigree, the same je ne sais quoi to repeat as Jason Kapono. Therefore, he will not win on Saturday.
Possible winners could include Steph or Seth Curry. That's right, you won't be seeing double when both Curry brothers take the stage in their hometown Saturday. They will be going head-to-head in a shooting contest for the first time since their days together in the backyard.
With the added element of the event being in the town they grew up in, either one of Dell Curry's sons could get that extra boost needed to come out on top. It's clear enough that they have the shooting talent needed to win.
Two-time MVP and three-time NBA Champion Steph Curry is nearly unanimously regarded as the best shooter in basketball history. He could shoot 40 percent from 3 with a football. Shooting a 3 for him is almost like breathing.
Seth Curry isn't a slouch, either. He ranks third in the NBA in 3-point percentage with a 46.5 percent clip, trailing just Davis Bertans and fellow participant Joe Harris. The younger Curry brother is a real threat to take home the crown.
Another intriguing case can be made for Kemba Walker. He'll be playing in his home arena and will definitely try to put on a show for the few Hornets fans in attendance.
However, no 3-point shootout winner has ever won in his home stadium. Not a good sign for Walker, the streaky shooter and free agent-to-be.
Also, the NBA decided to put Dirk Nowitzki in the contest for the first time since 2008. Dirk won the shootout in 2006, becoming the tallest player to ever win — a record he still holds. But this invitation is almost certainly a move to honor Dirk in what could his last season of a 20-year NBA career.
The sad part is that he has no chance of winning. The 40-year-old might need a walker to get from rack to rack. Hopefully he packs enough vitamins on the trip to Charlotte, or else he might not have the strength to hoist up 30 3s.
With all jokes aside, I really just hope this send-off for Dirk doesn't turn into watching an old dog limp after a tennis ball one last time. Nothing would leave a worse taste in our mouths than watching a geriatric Nowitzki stagger from station to station. Please Dirk, just make a few 3s and make sure you don't run out of time.
My choice for the champion is none other than Sacramento Kings shooting guard Buddy Hield. Hield has been apart of the Kings surprise season thus far, positioning them for Sacramento's first playoff push since sliced bread was considered trendy.
I predict he will be the one to half-heartedly raise the golden basketball trophy right after giving awkward handshakes to Mountain Dew executives.
Hield is at the top of the field in terms of 3 point percentage. He ranks fourth, right behind Seth Curry, with a 44.9 percent mark. However, Hield has taken 434 shots from behind the arc this season. Only Kemba Walker and Stephen Curry have taken more among the 10 participants.
The point is, Hield takes a lot of 3s, and he makes a lot of 3s. When he gets hot, there is no one in the NBA who can outshoot Buddy Buckets. In his first 3-point shootout appearance, Buddy Hield will establish himself as the top 3-point shooter in front of a national audience.
And if he doesn't, then I'm sure I can think of plenty of excuses. After all, this is just his first time competing in the 3-point contest. He isn't used to Charlotte, this is just Hield's third time at the Spectrum Center. His name is Buddy, he was just being nice and letting someone else win.
Enjoy the All-Star Weekend.