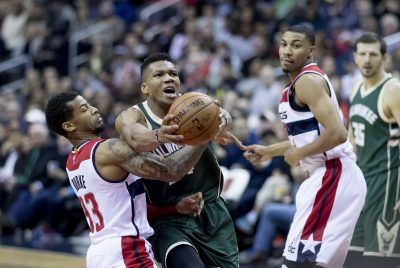 With about 25 games and two months left in the NBA regular season, there is still a lot to find out. I've gathered four of the trendiest questions yet to be answered, and made my humble predictions.
Will the Warriors win the NBA Finals again?
Will the Warriors win their third NBA Finals and their fourth title in five years? It would be dumb to bet against it.
Golden State sits atop the Western Conference again with a record of 41-16. As long as nothing drastic happens, they will hold homecourt throughout the playoffs. They still have Kevin Durant, Stephen Curry, Klay Thompson and Draymond Green.
Despite any rumors about the upcoming summer or potential dissention in The Bay, they still have the most talent of any team by a wide margin. After a "rough" start to the season, the Warriors are 16-3 since the start of the new year. As much as it pains me to say, there is almost nothing that can happen to make the Warriors lose four out of seven games.
Paul George and Russell Westbrook are starting to make the Thunder look like a real contender. The Nuggets have played surprisingly well this season with a fun bunch of young guys and dynamic center Nikola Jokic. James Harden is scoring at a historic rate for the Rockets.
But none of those teams come close to the Warriors array of generational talent. Maybe this run will come to an end soon, but not this year.
Who is the MVP: Giannis or Harden?
The MVP race is almost unanimously down to two people: Giannis Antetokounmpo of the Milwaukee Bucks and James Harden of the Houston Rockets. Paul George deserves a mention for what he is doing for the Thunder this season, but his candidacy stops at that.
Antetokounmpo is averaging 27 points, almost 13 rebounds and 6 assists per game on the league's best Milwaukee Bucks. His case is rock solid: Antetokounmpo is the best player by far on the best team in the league. You can't get any better than that.
James Harden is trying his best, though. He is averaging 36.6 points at the All-Star Break, almost eight more than any other player. No one has averaged 36.6 points in a season since Michael Jordan averaged 37.1 points per game in his second full NBA season. Ever heard of him?
Other than that, only Wilt Chamberlain has crossed the 36.6 point mark that Harden set, and he did it in five consecutive seasons from 1959-64, averaging 41.6 points over that span. Safe to say Harden is in good company.
But as dominant a scorer as Harden has been this year, I can't bring myself to vote him as MVP. Maybe if there wasn't someone as good as Antetokounmpo in contention, I would feel good about voting for a foul hunting, repetitive, shot hoarding complainer as the league's most valuable player.

Who will win the Eastern Conference?
Even though the Warriors are the clear favorites to win their third straight NBA championship, that doesn't mean we can't bury reality and act excited about the Eastern Conference playoffs.
Once the regular season ends, the Bucks, Raptors, 76ers and Celtics are expected to face off in some combination to decide which non-LeBron team will come out of the East for the first time since 2010. It's been eight long years.
None of these teams making the Finals this year would shock me. All four have guys who can be the best player in a playoff series, with Antetokounmpo, Kawhi Leonard, Joel Embiid and Kyrie Irving, and all four have the overall talent to make a deep run.
In terms of experience, there is no clear winner either. The Celtics hold the small advantage, having made the Eastern Conference Finals last season and having Kyrie Irving, who made one of the most clutch shots in NBA Finals history.
The Raptors also have a decent amount of playoff experience, with Kyle Lowry and Marc Gasol, who have played in Conference Finals before, and Kawhi Leonard and Danny Green, who won a championship with the San Antonio Spurs.
The Bucks and 76ers are also no strangers to the postseason, but barely anybody on either roster has played past the second round.
If forced to choose a victor now, I would go with the Boston Celtics. Things have been going pretty well here recently, so maybe some the leftover parade musk from the Red Sox and Patriots will flutter into the TD Garden.
In terms of basketball reasoning, they have played well against the top of the East in big moments, and only LeBron has stopped them from getting to June. They owned the 76ers in last season's playoffs and have won all three meetings this season.
They beat the Bucks in seven games in the first round last year and split two entertaining matchups this season. The Raptors never seem to win in the playoffs. That's just how things go. I'm riding the Boston wave.
Will LeBron James and the Lakers really miss the playoffs?
Unfortunately, I have no choice but to expect that LeBron James will make the playoffs in his first season with the Lakers. As bad as this season has gone, with LeBron's injury, Anthony Davis rumors destroying the team, Luke Walton firing rumors, the overall lack of defense, one thing you can count on is LeBron James finding a way into the postseason.
As fun as it's been to watch LeBron fail for a few months, the Kings or the Clippers won't get in over the Lakers. It just won't happen. Instead, we'll have to wait for the Warriors to sweep LA in the first round to see LeBron James go home.
But if by some miracle it does happen, and then by some miracle the Warriors do end up losing somewhere in the Western Conference playoffs, we could be in for the most intriguing postseasons in a long while.
Think about it. No LeBron. No Warriors. Who is going to establish themselves as the team to beat for the upcoming season or seasons? Who can make themselves a destination with a surprising Conference Final run or surprising first round upset?
Either way, whether the playoffs are cut and dry or totally unpredictable, this second half of the NBA season should be filled with plenty of craziness and theatrics. But we can all agree a playoff year without LeBron James owning the headlines would be unbelievably refreshing.