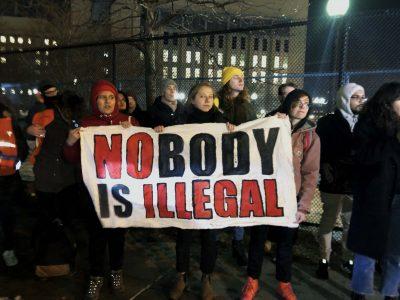 Protesters marched down the Massachusetts Avenue Connector Thursday evening chanting, "Ain't no power like the power of the people, because the power of the people don't stop!" Cars honked, and rapper KRS-One's "Sound of da Police" echoed down the roadway behind the Suffolk County House of Correction.
Dozens of people participated in a noise demonstration to support the more than 70 U.S. Immigration and Customs Enforcement detainees at the jail who have been on a hunger strike since Feb. 15 to demand more humane living conditions.
The protest was organized by Rhode Island-based group The FANG Collective, which advocates for environmental and social justice issues.
Arely Diaz, an organizer for FANG, said the purpose of the demonstration was to support the participants of the hunger strike. She said FANG will continue to put pressure on the jail to give the detainees "the conditions they deserve."
"We want them to know that we care and that we listen to the demands and we are in support for them," Diaz said, "and we are continuing the fight so many in solidarity, and that is the reaction we want to get."
Detainees claim to have been deprived of basic living conditions such as hot water and a functioning plumbing system, and have suffered verbal abuses from the guards, according to the list of grievances from the detainees.
The demonstration was particularly focused on creating noise, and many protesters were blinking flashlights to show support and catch the attention of the detainees inside the jail.
Diaz said that after the first list of grievances from the detainees was released, the jail has met some of the complaints, but not all. She said "someone inside" told her they were working on fixing sinks and the hot water.
Anusha Alles, of Providence, Rhode Island, said she has been working with FANG on issues regarding ICE for a while.
"No family should be separated, and we don't believe in borders," the 29-year-old said. "Borders are the reason why people are being separated with their loved ones."
Josh Cohen, 29, of the South End, said he thinks it is important to support people who are being mistreated.
"We should all care and stand up for what's wrong, and this is wrong," Cohen said. "People should be treated with dignity. There is no such thing as 'illegal' people."
Michelle Lee, 26, of Providence, said the detainees' hunger strike should be taken seriously.
"These people are actual people, you know," Lee said, "No one should be treated like this."