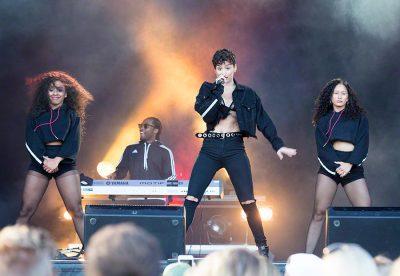 Kehlani's latest mixtape "While We Wait" leaves her fans, well, waiting — on what she'll do next.
Known offstage as Kehlani Ashley Parrish, the artist released her latest work on Friday while in her third trimester of pregnancy. "While We Wait" is the follow up-project to her first full album, "SweetSexySavage," which was released in January 2017.
As the rhythm and blues music industry booms, fueled by a rise in hip-hop with the development of streaming services, many R&B artists — specifically female R&B artists such as "SZA" and "H.E.R." — have really begun to take off and become relevant in the mainstream music scene.
It always seems like Kehlani is on the cusp of the success that her peers are experiencing right now, but she is never able to have that complete breakthrough moment. This new mixtape was Kehlani's opportunity to showcase her potential and compete with her peers. But, unfortunately, "While We Wait" falls short in a couple of areas.
It does not seem like this latest release will help launch Kehlani into the mainstream.
"While We Wait" has a lot of great songs that show off Kehlani's diverse strengths, but it becomes clear she is capable of so much more than what the album showcases as you listen through the mixtape.
"Nights Like This," which features Ty Dolla $ign, was the first single released off the mixtape. It also sounds like the song with the most mainstream appeal.
With a memorable chorus, Kehlani's signature silky vocals and a decent feature from Ty Dolla $ign, this song looks like it has the most potential to become a smash hit.
Already peaking at No. 69 on the Billboard Hot 100, "Nights Like This" could rise further with the release of "While We Wait" and some good promotion. But it's too early in the promotion cycle to tell.
"Footsteps" was another standout song from the mixtape. It includes a feature from Musiq Soulchild and, sonically, it feels like a nice segue from Kehlani's previous album to "While We Wait."
The song is a nice, chill R&B track that is able to showcase Kehlani's smooth vocals, as she details a relationship in which both sides are dishonest with each other about what they want.
Musiq was a great addition to the song, as his lower register provided a nice contrast to Kehlani's voice. A lot of artists who use features these days just slap one on their song in hopes of creating a hit. However, Kehlani's features seem to be well thought-out and purposefully placed.
"Nunya," featuring Dom Kennedy, is a defiant track. Kehlani tells her former lovers that it's none of their business whom she is seeing now. The song seems like a more mature continuation of the song "Personal" off of her previous album.
The only issue with "Nunya" is that the transition from Kehlani's voice to Kennedy's was not smooth whatsoever. It took too long for Kennedy to settle in and compliment Kehlani's part of the song.
Even though Kehlani is showing consistent growth, you cannot help but think that she is capable of doing so much more with her music — that she has still not yelled fulfilled her potential.
It seems like she is still nowhere near her peak. She has been steadily improving over the years and has shown that she is a force to be reckoned with.
For now, Kehlani's "While We Wait" is doing well, occupying the top spot on the R&B albums chart on iTunes. But if the artist wants to take her music to the next level, she is going to have to take more risks in vocals and production.