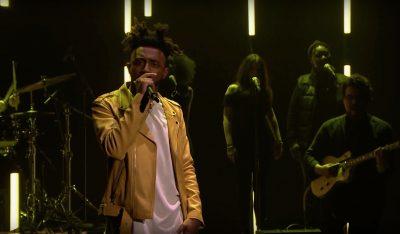 For the first time in five years, Boston University is hosting a spring concert. Rapper Aminé will perform on campus on April 5.
Aminé, a son of two Ethiopian immigrants, was raised in Portland, Oregon. He reportedly first took an interest in rap when, as a high school student at Benson Polytechnic, he would record diss tracks against other high schools, according to a New York Times article about the rapper.
In his college years, the article said, Aminé struggled with depression and frustration around his inability to realize his creative aspirations.
Aminé was able to make his voice known in the music industry when his first mixtape, "Odyssey to Me," was released in 2014. From there, he continued to experiment until releasing his debut single, "Caroline," in 2016. The song put him on the map and grew to the No. 11 hit on the U.S. Billboard Hot 100 chart.
His debut studio album, "Good for You," was released in July 2017. Since then, Aminé released "ONEPOINTFIVE," his second studio album, in August of last year.
The rapper's music gained enough popularity to break across mediums. Today he has more than 10 million monthly listeners on Spotify. One of his songs, "Invincible," was featured in the 2018 film "Spider-Man: Into the Spider-Verse." The movie's soundtrack included A-list artists, such as Post Malone and Lil Wayne.
Aminé's creative endeavors extend beyond just music — he also has plans to explore the fashion and film industries.
The rapper's concert at BU, titled "802.1" after the school's Wi-Fi network, will provide the student body with an opportunity to experience Aminé, his music and his vision for his performances live and on-campus.