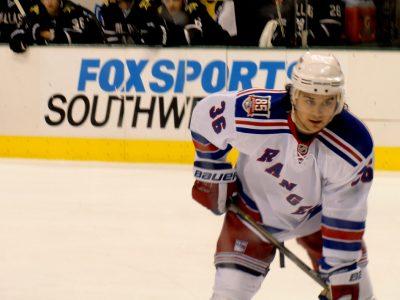 It seems a common theme for the 2019 trade deadline was draft picks. There was still a number of big names moved around, one of which resulted in tears from New York Rangers goaltender Henrik Lundqvist over the trade of long-time teammate, but for teams like the Rangers, Ottawa Senators and the New Jersey Devils, the emphasis was on trading for a chunk of draft picks.
While in the short-term the chance of any of these teams making it to the Stanley Cup Playoffs at all is entirely too bleak, trading bigger names for draft picks is a key to making sure their residencies at the bottom don't last for years to come.
After announcing a drastic rebuild a little more than a year ago, the Rangers shippedoff forwards J.T. Miller, Michael Grabner and Rick Nash along with defenseman Nick Holden and captain Ryan McDonagh at the 2018 trade deadline. Almost two months later, the team fired head coach Alain Vigneault as well as associate coach Scott Arniel.
New York has kept up that same spirit of rebuilding a year later.
The team is on track to have a better record than it did at the end of the 2018 season, but the Rangers are still sitting at second-to-last in the Metropolitan Division, with 10 points separating them from playoff contention.
By the Feb. 25 deadline, New York had traded away forwards Mats Zuccarello and Kevin Hayes as well as defenseman Adam McQuaid for forward Brendan Lemieux, defenseman Julius Bergman and up to six draft picks.
Add these to the draft picks they had already acquired at the 2018 trade deadline, and the team will be able to acquire an abundance of young talent that it can use to rebuild.
Another team that traded big for draft picks is New Jersey. The Devils added to the Brian Boyle trade they made earlier in February by trading goaltender Keith Kinkaid and forward Marcus Johansson for a few draft picks, most importantly a second-round pick in this year's draft in the trade with Boston for Johansson.
The Devils are currently last in the Metropolitan Division, but their strategy to build a younger team has proven somewhat successful, at least in the opening months of the season. Clearly two months of good play is not enough to win a Stanley Cup, let alone make make it to the playoffs, but there is some promise in the younger players that have been taking to the ice for the team.
It was a smart move for New Jersey to trade Kinkaid since Cory Schneider is officially back in net and 22-year-old Mackenzie Blackwood has proven his ability to play in the NHL by outshining Kinkaid this season.
Also, considering Kinkaid is on the cusp of 30, it's a smart move to stick with the goaltender that has proven talent as well as more years left to play when building a younger team.
The Ottawa Senators had the biggest haul out of these three teams: three second-round picks and one conditional first-round pick.
Yes, the team did trade away forwards Matt Duchene, Mark Stone and Ryan Dzingel, but given the fact that the Senators are currently seated in last place in the NHL, it doesn't seem like keeping them around would have been beneficial for anyone in that organization.
At this point, there's virtually no chance the Senators make it to the playoffs, so it was smart of the team to stay away from trading for one big name that may or may not be able to work miracles on the team — example being when Zuccarello breaks his arm after blocking a shot game one on the Stars, and now he's out for at least a month.
As with all three of these teams, the point of these trades was to prepare for the future. If a team wants to see consistent success, it must start with a solid foundation. Throwing players and draft picks at a star forward or defenseman now may only yield a handful of productive years and won't guarantee the rest of the team will also be able to pick up its play as a result.
What better way to set a foundation for long-term success than to build a young team that the organization knows can be relied on for consistently good play?