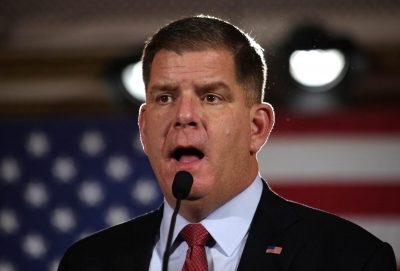 Boston Mayor Martin Walsh pledged the City would pursue an activism-based investment policy that promotes environmental, social and governance practices within companies on Thursday. The Environmental, Social, Governance Investment Initiative aims to bolster Boston's community banks.
Boston will invest up to $150 million of its operating funds into companies with a strong ESG track record and deposit at least $100 million from its Community Bank Investment Initiative into local financial institutions and Boston's community banks, according to a City press release.
"In Boston, we're committed to ensuring that as our city grows and creates opportunity for all," Walsh said in the press release. "We're using our assets to promote sustainable and responsible investments."
ESG refers to a set of standards investors use to screen potential investments to determine if they are socially conscious, according to Investopedia.
Boston's operating funds are held in short-term investments until withdrawn to pay for "budgeted expenditures," according to the press release. The $150 million dollars in operating funds will be invested in "short-term fixed income securities" until they are further needed.
Walsh also announced the city will join the Ceres Investor Network, working with a group of 165 other investors in order to advance the ESG practices along with policy solutions and engagement strategies in companies worldwide.
"By joining the Ceres Investor Network and using our assets to invest in community banks and commit to our ESG initiative," Walsh said in the press release, "we're putting our money where our values are — a stronger, more equitable city and world for all."
Ceres is a Boston-based sustainability nonprofit that facilitates teamwork among its network of investors and "tackles the world's biggest sustainability challenges," according to the press release. Collectively, the network represents more than $25 trillion in assets.
Sue Reid, vice president of climate and energy at Ceres, said the nonprofit does not advise its network on where to invest their money. Instead, it acts as an education and information sharing framework, allowing investors to understand the ESG associated risks and opportunities before investing their money in a company.
"Boston doesn't have the kind of in-house capacity naturally as say … a multi-trillion dollar fund," Reid said. "So we can take lessons learned from those who have big in-house ESG teams and share that information with entities like Boston that can't have a whole bunch of staff in house to navigate all of this."
Reid said Ceres has not yet determined how Boston will work with the nonprofit, as members can take many different approaches toward "maximizing the value" of the investor network, depending on members' "level of interest and capacity."
However, Reid said network members all broadly seek to address environmental, social and company governance issues through their investment portfolios, trying to change companies' behaviors and practices in two ways.
"One is their investment practices, so where they direct their money and what they affirmatively invest in or avoid," Reid said, "and the other is engaging the companies and sometimes public entities like cities."
Madhavi Venkatesan, an assistant teaching professor of economics at Northeastern University, explained activist investment further, and said there were two main ways in which an investor could push a company toward better ESG practices.
First, a group of activist-investors can seek to indirectly pressure a company's leadership to enact favorable ESG policies by influencing the senior management's salary and compensation, Venkatesan said, providing an incentive to fulfill a "sustainability parameter."
"It's quite simple," Venkatesan said. "A CEO is going to operate based on his job description — his compensation. If you don't change the job description, you're not going to change the way the person operates on the job."
If the shareholder bloc controls a significant portion of the company, Venkatesan said investors can directly influence the company's operations and force it to adopt better ESG practices.
However, both methods require investors to devote a large enough portion of their money, and Venkatesan said while $150 million dollars is a "positive step forward," Boston will need to invest more of its $3.9 billion in operating funds if the city wishes to make a significant impact.
"At least they're doing something, but it's not a large amount of money that we're talking about," Venkatesan said. "So it would be nice to see if they can continue to build on this, both in terms of how the city looks at this and other orientations that support ESG types of businesses and sustainable activities."
As for the $100 million deposited into local banks from the Community Bank Investment Initiative, Venkatesan said the funds could promote "entrepreneurial behavior" by making it easier for Boston residents to access financial capital.
Sam Zhai, 27, of Brighton, said he thinks the investments are a "good idea" as long as Boston considers who is going to benefit and makes sure that this is the best way to use taxpayer money.
"Generally it's a good idea," Zhai said. "But then the challenges are that the taxpayers are paying for the money, so the challenge is whether direct investment will be more beneficial than other means of indirect investment."
Kenmore resident Gabriel Sanchez, 25, said while he thinks this is the "most practical and fastest way to get results," the City should do more to ensure that companies are following sustainable practices.
"I think the government should also police more the environmental decisions that companies make," Sanchez said, "and not give them too much liberty in this area."
Jenny Vasquez, 20, of Dorchester, said she felt like the money could be put toward other areas that better benefited the people of Boston, such as improved infrastructure.
"Use it for something that is helpful for everybody, to show that he is very understanding and cares for people instead of using the money for companies," Vasquez said, "or use the money for new roads because the roads are very bumpy."