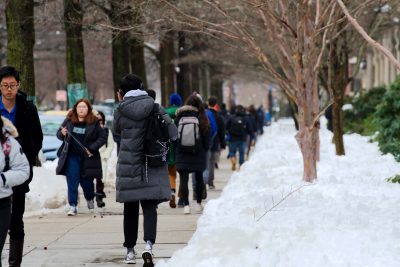 The Boston University Academy, Boston Public Schools and colleges and universities across the Boston area delayed opening or were closed Monday, as a reported 9.8 inches of snow blanketed the city overnight and into the morning.
Boston University held classes Monday with no delays or cancellations, though some classes were cancelled by professors directly.
Suffolk University, Boston College, Emerson College, Berklee College of Music and Northeastern University had delayed openings Monday. Simmons University, Emmanuel College and UMass Boston were closed for the day.
BU spokesperson Colin Riley said BU felt comfortable keeping the university open because the snow had largely stopped by the time morning classes began, and the roads and sidewalks had already begun to be cleared.
"We try to give our students as much of an opportunity to go to class as possible," Riley said.
Saira Majid, a junior in the College of Arts and Sciences, said a professor cancelled one of her classes anyway. Majid said she wished BU had declared a snow day.
"I can understand as to the cons of having a snow day because the schedule gets all messed up and lessons get pushed back, exams get pushed back," she said. "I get that, but it still would be nice to have a snow day."
Kirill Krupenin, a sophomore in CAS, said he thinks BU made the right decision by not taking any action.
"I don't personally believe we should have one, unless it's like really bad, but today's not really bad," Krupenin said. "If they clean it up, I don't think it's a necessary thing."
Austin Vargas, a senior in CAS, said he agreed with BU's decision because the university should only close when people become unable to commute to campus.
"As a student, I don't like them because that means I have to make up work by myself," Vargas said, "so I'd rather just go to class."