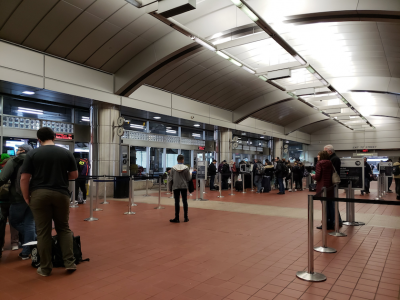 Massachusetts and New Hampshire officials have confirmed an international traveler carrying the measles virus passed through Boston's South Station on their way from New York to Boston on Feb. 26, potentially exposing other passengers and city residents to the highly contagious disease.
The infected individual arrived in South Station at 8:30 p.m from New York City on a Greyhound bus, according to a BPHC press release. There, the passenger got off and boarded the 10 p.m. Boston Express bus to Manchester, New Hampshire, which was carrying passengers from Boston Logan International Airport.
The Manchester bus also made stops in Tyngsboro, Massachusetts, and Nashua, New Hampshire, the release stated.
New Hampshire State Epidemiologist Benjamin Chan said the passenger arrived in Manchester at 11:30 pm before checking into a hospital, where the individual was immediately diagnosed with measles.
"Anybody that was on [these buses] is considered exposed, any New Hampshire residents on the stops are considered exposed, and anybody that was actually in the South Station around the time when this individual was present is also considered potentially exposed," Chan said.
Jenifer Jaeger, the director of the Infectious Diseases Bureau at the Boston Public Health Commission, said while the infected individual left South Station at 10 p.m., residents could still be exposed to the virus afterward, as measles can remain airborne and infectious for up to two hours.
Both Jaeger and Chan said they were not worried about a potential outbreak, as nearly 99 percent of Massachusetts residents and a similar number of New Hampshire residents have received at least one dose of the vaccine.
"It's serious, but it's also preventable," Jaeger said. "So 93 percent effective in preventing infection after one dose, 97 percent effective after two doses. Our standard immunization schedule is to have all children vaccinated with two doses."
Chan said while vaccinated individuals have little to no chance of becoming infected, authorities will pay extra attention to individuals who have not received a vaccination.
"Our concern is whether there may or may not be other individuals out there who are susceptible to infection, meaning they haven't been vaccinated in the past or have not had the measles virus infection in the past," he said.
If a person thinks they were exposed to the virus, Jaeger said they should immediately check if they were vaccinated against it. If they have not received both doses of the measles vaccine, she said, they should make sure to monitor themselves until March 19, as symptoms can emerge anywhere from seven to 21 days after infection.
"If they are infectious, stay home from work," Jaeger said. "Don't go to daycare if it's the child, don't go to school, and then contact your provider. It's a matter of just making sure that we're protecting each individual as well as sort of monitoring to make sure that we don't have an outbreak."
Jaeger said the primary symptoms of measles include a fever, red eyes, a runny nose and a cough, as well as a red rash that will appear a few days later, consisting of tiny dots around the face.
For more information, Massachusetts residents should contact the Boston Public Health commission at 617-534-5611 or the Massachusetts Department of Public Health at 617-983-6800.