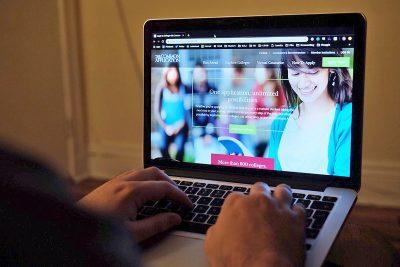 Boston University ranked seventh among colleges that make the most revenue off applications in the United States, according to a recent analysis of national universities by LendEDU.
BU generated an estimated $4,595,280 off application fees in the 2016-17 academic year, according to the data from LendEDU. Approximately $3,242,720 of the total came from applications that were rejected.
LendEDU, a website that compares financial products such as student loans and credit cards, ranked national universities in several categories, including total revenue generated from both accepted and denied applications as well as yield, which is the ratio of enrolled to admitted students.
BU followed the University of Southern California, which was No. 5, and the University of California, Santa Barbara, which was No. 6, in rank.
The study notes its values are estimates that may be skewed because universities often offer fee waivers, which would reduce the revenue generated. BU spokesperson Colin Riley said the university grants fee waivers for eligible students.
"There's an opportunity for students to request a waiver, and we grant quite a few waivers," Riley said. "So for those students who qualify, that application fee is waived."
Yield is typically an indication of overall interest in the university as well as a representation of how attractive the university is to accepted applicants, according to the LendEDU article. According to the data, Boston University accepted 16,907 of 57,441 applicants for the 2016-17 year, and 3,552 of the accepted students enrolled.
Riley said the admission process for colleges can be expensive because of the time it takes for schools to review applications.
"If you're submitting an application to a school you're interested in and asking them to review and process your application, there's a cost to doing that," Riley said.
The university receives far more applications from prospective students than it has the capacity and availability to admit, he said, so admission is very competitive and requires qualified admissions counselors.
"Again, with more than 60,000 applications for 31-hundred seats, it's a very competitive environment," Riley said, "and it takes the eyes of a professional admission counselor to discern the best fit of those students for acceptance at Boston University."
Carly Berry, a sophomore in the College of Communication, said she was unimpressed with BU's position in the revenue rankings.
"I don't think I would say being top seven in the country for revenue off of the price of submitting an application is something to be proud of," Berry said. "I think that it limits the demographic of applicants, and I think that if we can make that much money off of applicants, we should also be offering other kinds of opportunities to people who can't necessarily pay for the application or who are going to struggle to."
Jessica Phillips, also a COM sophomore, said she was not surprised by the revenue statistics and thinks the amount of rejections by the university plays a role.
"I just feel like BU only really cares about money," Phillips said, "so I'm really not shocked that we're generating a lot of revenue from denials. But I guess a little part of that is how many denials we've given out."
Kyle Handszer, a sophomore in the College of General Studies, said he thinks the cost of the application is worth the money because BU is a competitive school.
"I think that comes along with applying to a very competitive school," Handszer said. "It might be more expensive than others, but at the end of the day, it may be well worth it."