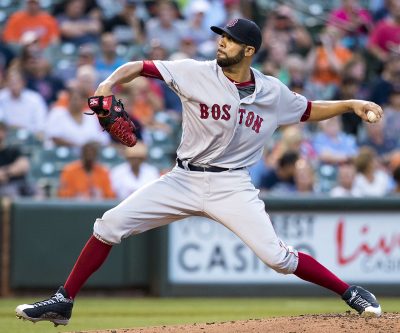 The 2019 Boston Red Sox season has officially begun, with the team down in Fort Myers, Florida, playing their spring training games. I have high hopes for this team. Last year, they cemented themselves as the best team in the MLB in 2018, winning 108 games during the regular season, the most in the league.
Looking at the team, we have pretty much the same field. The only area that brings me concern is the bullpen. I know Craig Kimbrel wasn't a sure thing at times last year, but he is one of the best closers in the game. That we lost him and now have to rely on Matt Barnes and company really doesn't make a whole lot of sense.
Dave Dombrowski, the president of operations for the Red Sox, has asserted his stance on overpaying for players: he doesn't do it. I knew Kimbrel would be gone because of how the signing of J.D. Martinez transpired.
Not signing until Feb. 19 prior to the 2018 season, the Red Sox waited him out, and eventually his price went down. It doesn't look like this will happen with Kimbrel. He wants a six-year deal worth over $100 million.
The bullpen also lost Joe Kelly, who was not great in the regular season but was an absolute fireball in the postseason. He brought a sense of character to the team and will be missed by his teammates and by the fans. I can see Dealin' Dave making a move before the deadline to add an arm in the bullpen that has a history of being successful in the postseason.
I can't wait to see Andrew Benintendi hitting leadoff for this team. He's a great ballplayer and is super young, as is much of the team. Having Mookie Betts hit behind him is a smart move. Benintendi now has the chance to get a few more at-bats and strengthen his eye at the plate. Mookie will get the chance to up his RBI numbers from last year. It's a win-win situation.
I really hope Martinez has a similar year to last year, because he was one of the catalysts of the team. He came through in clutch moments and delivered.
Speaking of clutch performances, Steve Pearce signed a deal to remain in Boston, and everyone in the city gave a little cheer. I don't know if I've ever seen someone have a better World Series in my life. He was absolutely dominating, and no one could do anything about it.
Our starting rotation is back in full, as well. Many David Price haters were shut up during the playoffs, which gave me nothing but joy. He finally got his first postseason win and pitched lights-out in the final World Series game. Price and Chris Sale will be giving teams nightmares all season long, yet again. I just smiled thinking about it.
Do I think the Red Sox will win the World Series again, even though it's an increasingly rare feat? Of course! Those bullpen issues will work themselves out, and if our starters need to go a few extra innings here and there while the problem is corrected, then so be it.
I love being a Boston sports fan, and the Sox are the number one reason why. Here's to firing up the duck boats again this October.