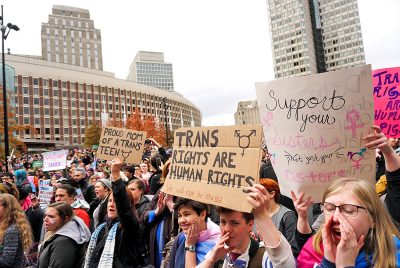 Weeks after Boston University announced the creation of two committees to uphold and review freedom of speech on campus, President Donald Trump vowed Saturday to sign an executive order protecting free speech at colleges in a speech at the Conservative Political Action Conference.
Trump said the executive order would require colleges and universities to support free speech in order to qualify for federal research funding.
The proposed executive order was met with mixed reactions, with some supporters saying this would encourage open expression of views — especially for conservative students in a liberal environment — while critics said Trump had politicized free speech and that federal engagement on the issue would interfere with the mission of higher education institutions.
Trump's announcement follows a Feb. 19 incident at the University of California, Berkeley, where a conservative activist visiting campus was allegedly punched in the face for expressing his conservative beliefs. The man who was reportedly punched and the assailant were not UC Berkeley students.
Trump's proposed executive order has not yet been explained in detail.
In the university-wide email sent out announcing BU's free speech committees on Feb. 12, BU President Robert Brown touched on how free expression is topical given the time.
"In times in which there are deep divisions in society, the commitment to free expression is tested," the email reads. "As we observe events both on campuses and in the broader society, I believe it is reasonable to suggest we are in such a time."
Research from the Foundation for Individual Rights in Education published in January found attempts to disinvite speakers at college campuses are at their lowest in a decade after peaking in 2016, and schools with restrictive speech codes have dropped to historic lows.
Sean McDonald, the communications director for the BU College Republicans, said he thinks Boston University has a good record with freedom of speech.
"It doesn't seem to be an issue," McDonald said. "The other conservative group on campus, [Young Americans for Freedom], just got a speaker approved that's pretty conservative."
McDonald said he thinks the proposed executive order is a good idea nonetheless.
"I certainly believe that it's a good thing, and I think that's a pretty unanimous thing amongst the other college Republicans I've talked to," McDonald said.
Neta Crawford, the chair of BU's Department of Political Science, wrote in an email she did not want to comment in detail on the potential content of the executive order, as it has not been released yet.
"I am not sure what Mr. Trump means here or what he intends to accomplish," Crawford wrote. "But this is not the first time I have been puzzled by Mr. Trump."
BU spokesperson Colin Riley said BU has supported freedom of speech in the past.
"We support civil discourse and free exchange of ideas and discussion and debate that is civil and collegial and based on, you know, facts and evidence," Riley said. "Let the weight of the message and let the weight of the argument be what makes a difference."
Riley said the university's support of free speech goes hand-in-hand with its mission to educate its students because "you can't learn without listening."
Mackenzie Evans, a senior in the Frederick S. Pardee School of Global Studies, said she doesn't think there are any problems with freedom of speech at BU.
"Every professor I've had has always stated, 'These are my opinions,' if they ever express them, but you're free to have your own opinions," Evans said. "[They try to] create a space in which all different kinds of opinions are acceptable."
Evans said she does not think freedom of speech is an issue to worry about but that divisive times have made it seem like more of a prominent issue.
"People feel highly offended on both sides by someone's opinion," Evans said. "It's
not that colleges are trying to stop free speech, it's just that people are more offended by what someone else says."
Evans said she thinks the proposed executive order is unnecessary and is a way for Trump to gain favor with his base.
"I think his base probably loves to see him doing something like that," Evans said. "But I mean, I don't think it's actually pertainable to an actual college campus situation."
Julia Fabbro, a freshman in the Questrom School of Business, said she doesn't think BU has any issues with freedom of speech.
"I've never in my time here encountered someone being persecuted for something that they say regarding what they believe," Fabbro said.
Federal support for freedom of speech is still beneficial to have, she said.
"Free speech is incredibly important," Fabbro said. "It's one of the foundational elements of our country, so I do support federal support for free speech on campuses."
Chiebuka Onwuzurike, a junior in Questrom, said he doesn't think there is much restricted speech on campus, just frowned-upon speech, but all views should be talked about and debated openly.
"I felt like at the end of the day, you know, there may be views of people who don't agree with mine, but shutting them down isn't the answer," Onwuzurike said. "I think the conversation needs to be had."