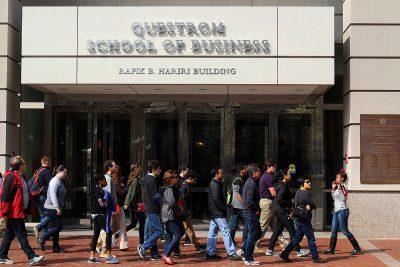 Boston University's Questrom School of Business placed fourth in the percentage of full-time Master of Business Administration students who are female-identifying in the nation. Forty-four percent of the school's most recent full-time MBA class were female-identifying students, according to a 2019 Financial Times rankings report.
Karen Phillips, assistant dean of graduate student experience and services at Questrom, wrote in an email the college is reworking policies to provide more support for female students.
"Currently, we are reworking our pregnancy policies with the central school leadership to ensure that we are providing the proper support and leeway to our students who are pregnant during their time here," Phillips wrote.
There are multiple clubs and opportunities in Questrom for female students, Phillips wrote, such as the Questrom Women's Summit. In total, there are more than 25 graduate clubs, including the Women's MBA club.
"There are … opportunities to participate in Case Competitions, to attend national conferences and to participate in the Boston University Women's Summit, which is a cross-college initiative aimed at bringing women alumni and successful women business experts that come to share their knowledge and network with our community," Phillips wrote.
Joan Kagan, the president of Women's MBA Association, wrote in an email the association holds events to connect students to different industries. Within the past year, Kagan wrote they have organized four panel events.
"[They are] geared towards industries and opportunities that matter to students, i.e. a Women in Tech event where professionals at leading companies spoke to us about their experiences as women in the workplace," Kagan wrote.
Kagan added the group encourages students to bond with one another.
"We also try to create fun events for students to bond and feel supported," Kagan wrote, "such as an empowerment workshop with Google and fitness classes like a dance class at 305 Fitness."
BU has also implemented a working group of faculty members chosen by the Provost that is tasked with developing recommendations for BU to focus on creating a culture and climate that prevents gender-based harassment.
The Working Group on Gender-based Harassment Prevention will identify the best practices in prevention of harassment and propose a set of recommended action steps across all disciplines at BU that rejects gender-based harassment, according to the announcement by Jean Morrison, the university's provost and chief academic officer.
"As one of the first universities in the United States to open all its divisions to female students, the first coeducational medical college in the world, and the first American university to award a PhD to a woman," Morrison wrote in the announcement, "BU has a historic commitment to providing a welcoming and respectful setting for students, faculty, and staff of all genders."
Morrison also wrote that commitment to respect to all genders is one of BU's ways of attracting high-quality community members.
"It is a commitment etched into our narrative and an essential part of BU's continuing effort to attract the very best faculty and students to our campuses," Morrison wrote.
Jennifer Grodsky, vice president for federal relations and the chair of the working group, said in an email based on this fact-finding, the group will write a set of recommendations for the Provost that will be delivered by September.
"The group will meet over the next few months to review best practices around the country and BU's own policies and practices," Grodsky wrote.
Additionally, the Office of Provost sent a survey out on March 4 to BU students about the campus climate with sexual assault and misconduct. The results will be used to guide policies to encourage a healthy, safe and nondiscriminatory environment at BU, according to the survey's website.
Brittany Steinfeld, a senior in Sargent College of Health and Rehabilitation Sciences, said she thinks BU should have more advertisements for programs that support women on campus.
"I know they have lots of groups and programs, but they are not advertised that much," Steinfeld said.
Amy Lopez, a sophomore in Sargent, said she has never felt disadvantaged as a female student at BU, but one of her female friends who also attends BU was offended after a professor made her feel like she was disadvantaged because she was a woman.
"She's a neuro major, and her professor kind of made it seem like she would know less than one of her peers because of the fact that she was a woman," Lopez said, "and she got very offended by that."
Maria Yepes, a junior in College of Arts and Sciences, said she thought more female clubs in the science field would be a good addition to women's life at BU.
"I feel like the only clubs that are just for women is greek life, so maybe something more specific," Yepes said. "Especially because I'm a science major, so something in the sciences would be good."