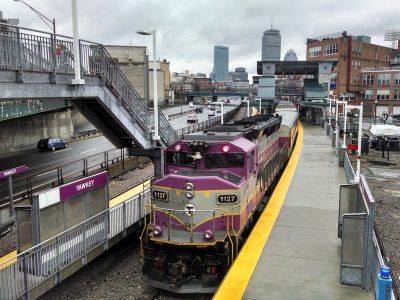 Yawkey Station, the MBTA commuter rail stop near Fenway Park, is undergoing a name change to Lansdowne Station. The renaming, announced Thursday by the transportation agency, comes about a year after the renaming of Yawkey Way to Jersey Street.
The name change will go into effect April 8, a day before the Red Sox's first home game at Fenway Park, according to a press release from the T.
Yawkey Way and Yawkey Station were named after Tom Yawkey, a late former owner of the Red Sox who is a controversial figure due to his racist past. Yakwey is said to have used racist slurs to refer to black players and to have resisted integrating the Red Sox's roster.
Last April, a City commission approved a request by John Henry, the principal owner of the Red Sox, to change the name of Yawkey Way back to Jersey Street, its original moniker. The team said in a statement after the City's decision it was pleased with the change.
"Today's vote is an important step in our ongoing effort to make Fenway Park a place where everyone feels welcome," the Red Sox said last April.
The T stated changing the name of Yawkey Station is in line with the agency's "station naming policy," which reflects local geographical names. Lansdowne is the name of a street that runs alongside Fenway Park across Brookline Avenue from where the station is located.
The agency release did not mention Tom Yawkey or the controversy surrounding his name.
The Yawkey Foundation said in an emailed statement it was "disappointed" by the T's decision to change the name to Lansdowne Station.
"The Yawkey Foundations will carry on the mission of Tom and Jean Yawkey, a legacy of giving that has provided more than $500 million to organizations in Boston and beyond," the foundation said. "The work Tom and Jean began while they were alive is as important as ever, and we will continue to focus our efforts on sustaining their dedication to helping those in need."
Chanta Hogsett, 52, of Roxbury, said she agrees Yawkey Station was not the most suitable name.
"I feel like anything that has anything with racist people should be changed," Hogsett said. "This shows change is coming to the Commonwealth of Massachusetts."
Michael Kay, 47, of Kenmore, said he felt the renaming of Yawkey Station was "a marginal issue."
"There are real and powerful issues at-hand," Kay said. "We should make a real impact, like with job training, school funding or address overpopulation in schools."
Sydney Jordan, 21, of Holbrook, said she thinks the City should not keep symbols or names that honor racist histories.
"Honestly, I think it's important that we don't keep symbols of any time of racism up," Jordan said. "Boston has a history of being a more racist city than they are aware of."