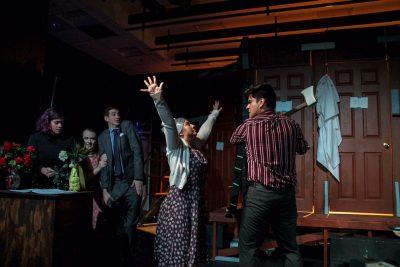 Boston University Stage Troupe opens their second production of the semester, "Noises Off" — where the audience gets to watch a play about a play that goes wrong — Thursday night.
Within the show, which will play at the Student Theater in Agganis Arena, the audience catches glimpses of the onstage and offstage dysfunction of a production of a fictional sex farce, "Nothing On."
According to Director Taylor House, a College of Fine Arts senior, "Noises Off" opens with a scene that depicts the final rehearsal of "Nothing On." The night before the opening of "Nothing On," nothing seems to go right, House said. Actors forget their blocking and lines and ask stupid questions.
"A lot of shenanigans happen," House said.
House said she chose this show to give Stage Troupe a challenge and an opportunity to put on a big show, as well as advance their own skills as a theater troupe.
"It's a fun time while at the same time giving us a chance to explore our artistry a little more," she said.
"Noises Off" presents a particular new opportunity for House, as she said it's the first full-length show she has directed.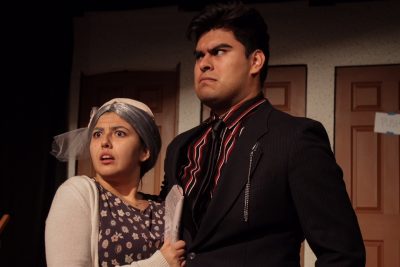 Assistant directors Emilee Martichenko, a junior in the College of Arts and Sciences, and Siena Giljum, a freshman in the College of Communication, are making their BU directorial debuts.
Martichenko said she decided to try directing after previous positive experiences with Stage Troupe.
"I was in 'The Nerd' last semester, and I had such a positive experience in that show," Martichenko said. "I decided to try my hand at directing and see if I could be good at it."
Giljum said the work environment when producing "Noises Off" has been very positive.
"Taylor and Emilee have definitely been my friends as much as my collaborators on this show, which has been a really great experience," Giljum said. "We have the ability to laugh with each other, as well as get stuff done in the rehearsal room."
Libby James, a junior in CAS who plays Belinda in the production, said her character is "the mom of the group." "Noises Off" is a unique show, James said, because of the amount of physical acting required.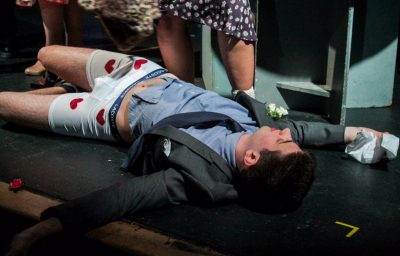 "The entire second act, while there are lines going on, the lines aren't really what's progressing the plot," James said. "It's completely actions that are progressing the plot, which is obviously different than most other shows."
The cast of "Noises Off" took part in "character meetings" with the creative team in order to develop their characters, according to House.
"Even though the play might not give a huge backstory to a character, it's always great to sit down with an actor and give your character a backstory that's your own and that's unique," House said, "because it allows you to make the character your own and different from someone else's performance."
James said the character meetings were really helpful for her, as they guided her in her approach to portraying Belinda.
"I think just talking through it and thinking about where [the character] is coming from has definitely changed the intentions behind certain scenes," James said.
Robert Branning, a sophomore in the College of Communication, plays the role of Tim — the overworked stage manager and male understudy in "Nothing On." Branning said this is his first show at BU.
Beyond acting, Branning said the experience has also taught him about about time management.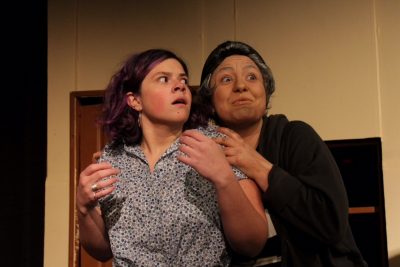 "The rehearsal schedule was a lot more than I was used to," Branning said. "Juggling that and the course load was kind of something new to me."
Kendall Gregory, a sophomore in the College of Fine Arts, is the producer of "Noises Off" and in charge of marketing the show.
"There are so many funny elements and just so many different ways you can advertise it and take photos and stage super fun things throughout the show," Gregory said. "It's not a hard show to sell."
Sage Holloway, a sophomore in the College of Communication, plays Selsdon Mowbray — an older actor with a decorated career as well as a drinking problem.
Holloway said audience members will have the most fun watching "Noises Off" if they come in with an open mind.
"If you come in carrying your day with you or distracted or just not open-minded, you're not going to enjoy it," Holloway said. "But if you come in, and you just put down your day and get ready to open your mind and laugh, you will."
Stage Troupe's production of "Noises Off" premieres Thursday night in the Student Theater in Agganis Arena at 8 p.m. and runs through Saturday. Tickets are $8 for students.