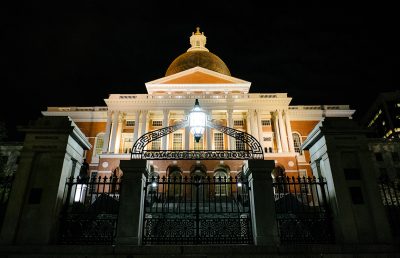 Massachusetts State Rep. Mindy Domb, a Democrat from Amherst, proposed an amendment to the state constitution on Tuesday that would replace every mention in the document of the word "he" with the gender-neutral "they."
The amendment is aimed to make the Massachusetts Constitution more inclusive of all genders.
State Sen. Rebecca Rausch, a Democrat of Norfolk, Bristol and Middlesex, said gender inclusivity is important for the state constitution because both men and women hold elected office in the Commonwealth.
"We are no longer in a world where only men serve in elected office, we saw that this year," Rausch said. "And the language should reflect the reality of our states, which are in fact not just made up with men."
Rausch said changing the language of the state constitution is significant because it reflects ideas in society at large.
"It is crucially important that all people, regardless of gender, see language that reflects all of our identities in the constitution," Rausch said. "People exist, people of all genders exist here in our Commonwealth, and words matter. Words matter deeply."
Ev Evnen, interim director of the Massachusetts Transgender Political Coalition, said they think this bill presents an opportunity to remove gender defaults.
"I think it is really great when we as a society strive towards inclusivity in all genders," Evnen said. "So I think that this is not only an opportunity to remove the masculine default, but an opportunity to remind all baystaters of all genders that the Massachusetts government and Constitution is here for them."
Evnen said even if the language change does not directly lead to social change, it is still an important development.
"Just because it doesn't mean a lot to you, it doesn't mean it doesn't mean a lot to other people," Evnen said. "So I would encourage those people to step outside of their own comfort zone and perception and this change will have a positive change [for] a lot of people in Massachusetts."
Cindy Arjun, 33, of Brookline, said she did not realize the state constitution was written with "he" and is glad lawmakers are talking about changing that.
"I didn't even know that it was written like that," Arjun said. "I guess it is good that they [could change] it now at least."
Noah Stein, 36, of Somerville, said he thinks the state should make the language change and be more inclusive.
"That's great," Stein said. "I mean good for them — if someone feels like that makes it feel more inclusive, that's great."
Dana Sung contributed to the reporting of this article.