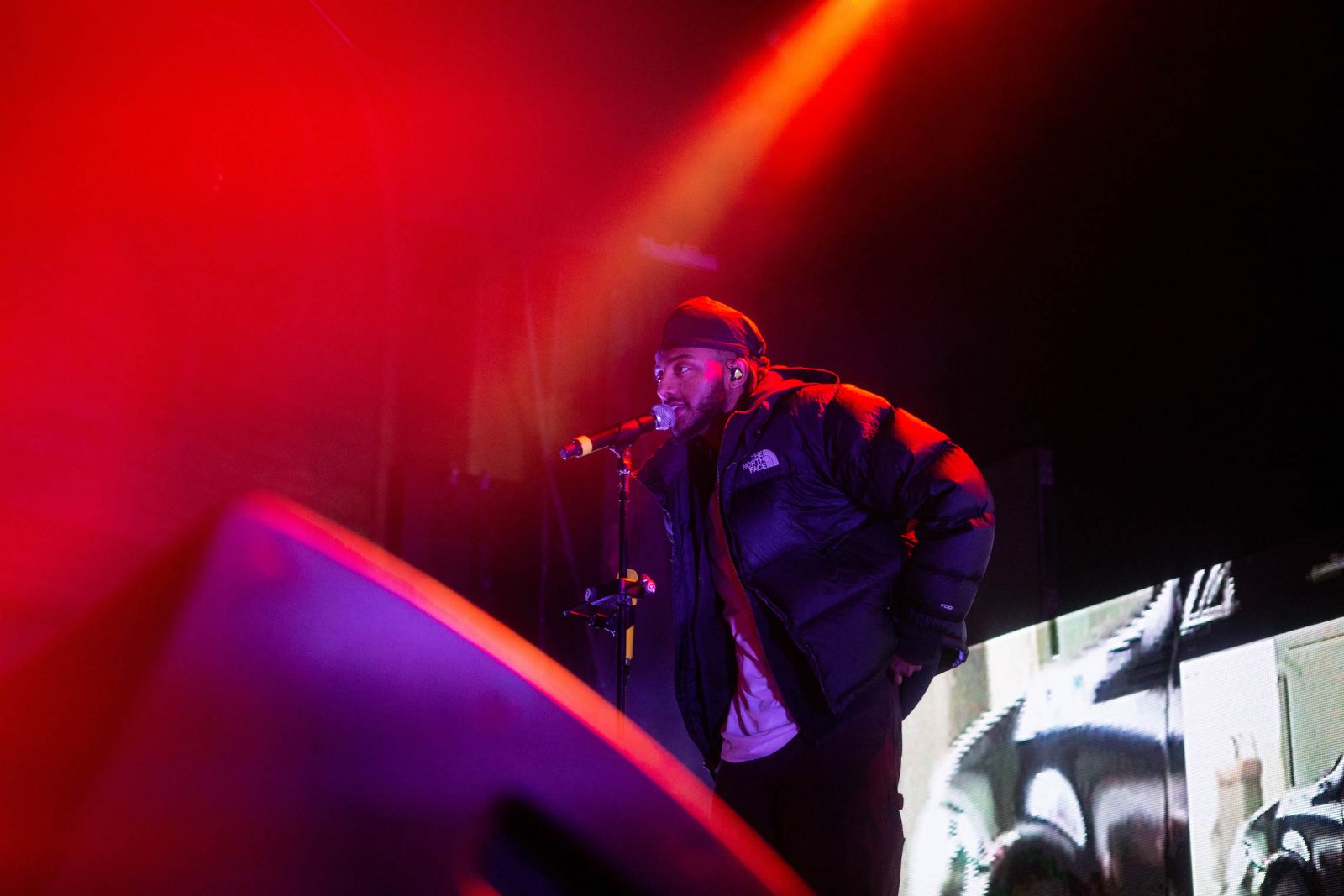 The experience of the 802.1 concert was disappointing — and not because of Aminé.
As a performer, Aminé did the best the could with what was given to him. And what he got was disorganized logistics, a strange location and poor weather.
Despite all this, Aminé put on a great show for those who braved the rain and cold. His performance and interaction with the crowd was fantastic. But the execution and management of the event was poorly done.
For starters, the last minute change of location was not ideal. I'm sure I'm not the only one who was disappointed and would have much rather gone to the concert in the Fitness and Recreation Center. It was raining a considerable amount, and before long, the Boston University Beach turned to mud: a recipe for disaster.
There was a long line forming in Marsh Plaza before the concert began, but thankfully, it moved quickly. At the entrance we were also handed ponchos, which was a nice gesture.
Danny Diamonds, a junior in the College of Communication, performed one of the show's opening acts. His performance was decent, and he did hype up the crowd a bit. His constant and obvious use of autotune, however, was a downside.
Diamonds' sound was generic — he sounded like any other artist on the market. He did exude confidence and appeared to be having a genuinely a good time, though, amping up the audience's energy.
About a half hour after Diamonds' performance, a DJ arrived on stage to get everyone excited for Aminé. This is when things took a turn for the worse. The crowd started to mosh, and everyone was trapped. The constant squishing and pushing was overwhelming. Standing in the middle of the crowd, I felt like I couldn't breathe.
I struggled to get out for 20 minutes. Finally, I emerged from the mosh to stand off to the side, where I had perfect view of the stage. I looked up and noticed students sitting inside the College of Arts and Sciences, watching the concert from the comfort of a classroom. I envied them.
When Aminé finally came out, he completely killed it. He started by showing the YouTube celebrity Rickey Thompson on the screen behind him — iconic. Aminé brought great energy, dance moves and an overall excellent performance.
Aminé opened the concert with "Yellow," which was a perfect selection. His transitions between songs included small anecdotes about his life and puns relating to the title of the song.
After performing "Yellow," he said, "I wanna make everyone feel beautiful tonight," and asked the crowd to say, "I know I am," every time he said, "You are beautiful." It was an empowering moment.
There were a few disappointments in Aminé's performance. His songs were cut in half. His show lasted only about 45 minutes. His performance of his biggest hit "Caroline" was a let down. I expected him to end the show on a high note, but instead he signed off with a slow version of "Caroline."
The performance of his hit song wasn't bad, it was just different from my expectations. After this song, Aminé left the stage and ran into Marsh Chapel, and a staff member asked the students to empty out.
By the end of the concert, the lawn was damaged, mud was everywhere, and the BU beach was littered with wrappers and ponchos. It could have been a great concert, but with poor execution  and bad management, 802.1 turned into a terrible night.
To top it all off, we learned that Aminé performed at Brandeis University on Sunday — a concert that was free for anyone 18 and older. I could have saved myself the $15 and gone to a well-established and well-managed concert instead.