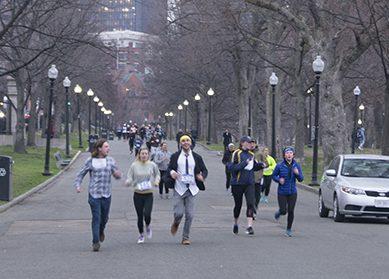 The outskirts of the Boston Common will be filled with runners, walkers and dancers dressed in costumes for the city's third annual Half Half Half Half Half Marathon on Thursday, April 11. The race, held a few days before the Boston Marathon, is hosted by 826 Boston — a nonprofit organization that teaches writing skills to students.
826 Boston is a branch of eight other organizations in the country under the 826 umbrella, the original of which is in San Francisco. Each location has its own distinct and quirky theme — in Boston, the title of the organization's storefront is the "Greater Boston Bigfoot Research Institute."
Jenna Leschuk, associate development director for 826 Boston, said the mission of the organization is to help the students they work with obtain important writing experience.
"We work with students aged six to 18 on projects that helps them find their voices, tell their stories and gain communication skills to succeed in school and in life," Leschuk said.
The Half Half Half Half Half Marathon was created as a fun, inclusive event that is accessible to the public, according to Leschuk. She said the short distance 826 Boston chose reflects the name of their organization.
"As a writing organization, we figured that 26 miles is a really long way to run, half a marathon is still kind of crazy," Leschuk said. "We realized that a Half Half Half Half Half Marathon is roughly 0.826 miles, and the name of the organization is 826 Boston."
Los Angeles and New York City also play host to mini marathons in the style of Boston's. In Boston, Leschuk said, 826 always holds the race on the Thursday before Marathon Monday.
"It only makes sense since the Boston Marathon is clearly the best of all marathons," Leschuk said. "People in Boston say that, and I agree."
As 826 is an organization that focuses on creativity, Leschuk said, the organization's race is "a whimsical and imaginative take on a real marathon."
In 2018, the organization raised more than $30,000 and had included more than 130 runners. This year, 826 Boston hopes to raise $40,000 and register 150 runners, Leschuk said.
"The event is really kind of taking its own momentum," Leschuk said. "So we thought it would be good to increase the goal, and we think that's a reasonable and realistic amount."
Unlike typical marathons, which are held in the morning, the Half Half Half Half Half Marathon will start at 6:30 p.m. with registration starting at 6 p.m. There will be an after-party held at Papagayo Mexican Kitchen in downtown, though tickets for the party are sold out.
Leschuk said the race's evening start time was inspired by the connection between writers and the night, as writers tend to be "night owls."
Additionally, she said there are more similarities between authors and long-distance runners. She said there are a number of famous authors who wrote about "the craft of writing" as the "perseverance and long term resiliency that it takes to write alone, in solitary pursuit." She said the determination and persistence writers have resembles that of distance runners.
826 Boston kept the race's long title to let attendees know the mini marathon is manageable, even for non-runners, according to Leschuk.
"We really stuck with five halves in the name to clearly indicate to people that it's a race that they can do," Leschuk said. "Running any event is difficult, but this one gets people smiling."
She said this year's Grand Marshall for the race is Desiree Linden, the winner of the women's division of the 2018 Boston Marathon. Linden will kickstart 826 Boston's race, a much shorter race than the one she will look to win for the second year in a row a few days later.
The mini marathon will start and end at the Parkman Bandstand, and attendees will run around the perimeter of the Common, Leschuk said, a near full-mile loop.
Kendyl Muehlenbein, senior staff coordinator in Boston University's Wheelock College of Education and Human Development, will be volunteering for this year's mini marathon. She said she is looking forward to the costume contest, where runners have a chance to cross the finish line in creative fashion.
"Folks are going to be running, walking, jumping, skipping, dancing all across the finish line," Muehlenbein said. "And I think we'll definitely be getting attention at the Boston Common, so it's going to be great."
Muehlenbein said she found out about 826 National through a Dungeons and Dragons stream called Critical Role, a group where voice actors stream a web series playing the fantasy role-playing game.
She said she is excited to be on the event committee for the mini marathon and believes in what the organization does.
"The work that they do is so important in helping students develop and especially serving underrepresented group of students. It's amazing what they do," Muehlenbein said. "It's just a fun, silly event to really raise awareness of what the organization does and to raise money."
Lizz Simpson, a Sudbury Public Schools librarian, is another volunteer who said she heard about 826 Boston through Dungeons and Dragons. She said the marathon is a great way for attendees to showcase their creativity.
"It's especially fun because some people aren't creative in story ways, but they are totally creative in dressing up and being silly and creating," Simpson said.
Like Muehlenbein, Simpson will help the 826 Boston staff direct attendees to the starting line and with other tasks to keep the event running smoothly. These include, she said, cheering on runners along the route, asking attendees to donate and instructing runners in the right direction.
Simpson said she and her other friends plan to run in the mini marathon.
"Certainly for my group, we're embracing the craziness for sure," Simpson said. "But for me personally, anything that is fun and celebratory and raises money for kids to learn and tell their stories and be creative is just great."