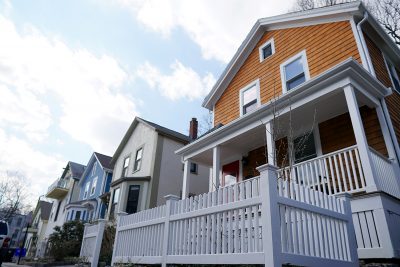 Boston Mayor Martin Walsh announced Friday that $20.6 million will be allocated for housing in the city's 2020 fiscal year budget, an increase of 45 percent over the amount given last year. The funds are, according to a City press release, aimed at expanding access to affordable housing and combating homelessness in Boston.
About a quarter of the proposed funds, or $5 million, will be generated as Boston implements the state's new Room Occupancy Excise Law — which levies an increased 6.5 percent tax on all lodging establishments — according to the press release.
Money from the tax will create 50 "permanent supportive housing" units, the release stated, as well as devote $1 million to increasing young people's access to employment, renting assistance and support services.
Walsh said in the press release he is "proud" that his FY2020 budget includes measures that will increase affordable housing in the city.
"Over the last four years, Boston has built more income-restricted housing than in any similar period on record," Walsh said. "Through the new tools and funding in our budget, we will be able to further build upon the progress we have made, and expand our reach to offer more housing options to residents."
At an event at WBUR CitySpace Tuesday hosted with Pine Street Inn, a homeless services organization in the South End, Walsh and other community leaders met to discuss progress that's been made on ending homelessness in the city and the challenges with doing so.
Barbara Trevisan, the vice president of marketing and communications for Pine Street Inn, said her organization is focused on getting people off of the streets and into permanent living.
"A shelter doesn't get someone out of homelessness, it gives someone a bed for the night." Trevisan said. "But a home is a stable place."
Karen LaFrazia, president and CEO of St. Francis House, a day shelter in downtown, said Walsh's leadership on ending homelessness has been "amazing."
"We are putting people from shelters and the streets into housing," LaFrazia said, "and they are being successful in their ability to have a more normalized and stable life."
Jim O'Connell, president of Boston Health Care for the Homeless Program, said homelessness is among the most pressing issues society is facing today.
"Homelessness, I think, to me, symbolizes where the weaknesses [are] in so many of the sectors of our society," O'Connell said.
Christie Towers, 31, of Arlington, works with a writing group for people affected by homelessness. She said she thinks the City is doing better than it used to be in its efforts to help the homeless in Boston.
"I wish that there had been more, but I'm happy there's more now," Towers said. "If [the City is] talking to as many people as they seem to be, then I think that's the key."
CORRECTION: A previous version of this article stated that Towers  "thinks the City is doing enough" to help homelessness. In fact, Towers said she thinks the city is doing better than it used to be, not that it is doing enough. The current version of the article reflects this change.