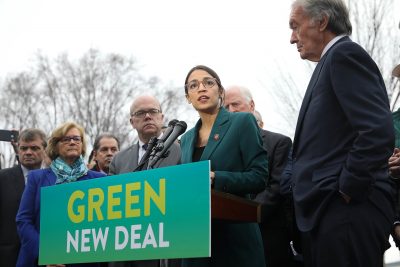 The Boston City Council passed a new resolution with a 9-3 vote last week to support the Green New Deal, a package of proposed federal climate policies.
The Green New Deal includes a plan to help the environment by switching to all-renewable energy usage in the United States over the next decade and providing support to working-class families and people of color who are often most affected by climate disasters.
Under the proposed plan, by 2030, the federal government would use 100 percent clean and renewable energy.
At-Large City Councilor Michelle Wu, who filed the resolution, said in an emailed statement she believes it is necessary for Boston to support the Green New Deal.
"We are running out of time to dramatically scale up our efforts to mitigate the effects of climate change, with just 11 years left before catastrophic effects may become irreversible," Wu said. "Mobilizing our federal government with a Green New Deal is the crucial action needed to transform our society and economy to survive in the face of climate change."
According to a press release from the City Council, in order to achieve the goals of the plan, the City needs to support community-based initiatives to mitigate climate change by removing pollution and greenhouse gases emissions in industry, maximizing water and energy efficiency in new buildings, as well as retrofitting existing buildings.
The Council's resolution detailed that the Green New Deal legislation calls for the nation to mobilize and address the climate crisis over the next 10 years. The resolution stated the Green New Deal could provide widespread security for Americans.
"Doing what is now necessary to adequately address the climate crisis requires a national mobilization of a scope and scale that is a historic opportunity to address inequities caused and exacerbated by the fossil fuel economy," the legislation said, "as well as providing unprecedented levels of prosperity and economic security for all people in the United States."
Richard Marsden, a 38-year-old of Allston, said he thinks preventing climate change is the responsibility of the government.
"I think it's more up to cities and governments than the individuals," Marsden said. "They [the government] can provide the individuals with the facilities."
Cayenne Douglass, a 25-year-old of Brighton, said she thinks the City is doing a great job investing in the future.
"The less carbon footprint we can leave, the better," Douglass said. "We could all use some training and understanding of the direct correlation of what our actions are and then how that impacts the community."
Northeastern University student Akshay Elayidom, a 19-year-old of Back Bay, said he wants more action taken when it comes to preventing climate change and thinks responsibility lies with the government.
"Climate change is something that affects everyone," Elayidom said, "so it's everyone jobs to help."