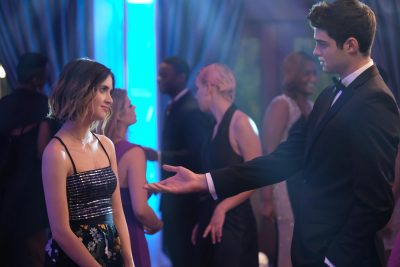 Released in the wake of the mind-blowing college admissions scandal, Netflix's "The Perfect Date" is a cinematic interpretation of how economic inequality affects social mobility, corrupting the so-called "fairness" of college admissions.
"The Perfect Date" premiered April 12 and was directed by Chris Nelson. The film was adapted from the teen fiction novel "The Stand-In" by Steve Bloom.
Noah Centineo, the current rom-com king, stars in "The Perfect Date" as a high school senior named Brooks Rattigan. Centineo's character dreams of getting into Yale but doesn't have the money to pay for it, as he comes from a financially unstable household. He works at a sandwich shop with his best friend Murph, played by Odiseas Georgiadis.
Brooks seizes an opportunity to earn some extra cash by escorting cool-girl Celia Lieberman (Laura Marano) to a semi-formal in place of Celia's cousin, Reece (Zak Steiner). The stand-in gig comes with the perk of driving Reece's dreamy, flashy BMW.
At first sight, Celia seems stubborn — but that's just because she's a strong, independent figure.
One scene that hints at this clever, underlying meaning is when Brooks opens the car door for Celia, and she says, "Oh, that's cute, but I can open my own doors" — a subtle nod to the feminist movement and women taking their own chances.
Brooks does not have the money to pay the high price of an Ivy League education, so he decides to put on his entrepreneur hat to make some cash.
Together with Murph, he builds a customizable dating service app called "The Stand In," through which he offers himself to people looking for a date as a customizable plus-one. Each of his dates can select his personality and look for the occasion.
The app is basically the backbone of the story.
Brooks desperately wants to date rich-girl Shelby Pace, played by Riverdale's Camila Mendes, and much of the movie is about the progress of their relationship.
We learn more about Celia through the quirky comments that come along with her easy-to-like character. She easily outshines Brooks' role as the main character.
Brooks' relationship with his family is difficult. His father Charlie, played by Matt Walsh, is a single parent who was once a writer. The relationship between Brooks and his father is quite a cliché — Brooks only lets Charlie into his life once everything starts to go downhill.
The plot zoomed through the crucial moments of Brooks' relationship with both his best friend and his father. Although the spotlight was on Brooks and Shelby's relationship, it would have been nice if it also looked deeper into his other close companions.
After arguing with, being slapped by and losing Celia, Brooks of course realizes he has wanted her all along. In the self-reflecting letter, Brooks writes to Celia to win her back, and he describes all the superficial things that he once wanted, like dating the most popular person or driving the nicest car. He realizes that living a life full of facades is worse than being himself.
The most disappointing part of the plot was when Brooks instantly forgets about his father's recent success at getting back on his feet again. It seemed reckless of him to nonchalantly leave his father behind after what seemed like a monumental moment for his career.
It should also be noted that "The Perfect Date" does not have a diverse cast. Georgiadis as Murph and Mendes as Shelby are the only two people of color who play prominent roles in the film.
As with every other rom-com, "The Perfect Date" ends in a positive note, with Rattigan jumping back from his mistakes and completely forgetting Shelby, leaving us with the question, "was it really all good with Shelby?"
"The Perfect Date" is just another archetypal, lighthearted movie. But if you're ever in the mood to chuckle at a film, this one's for you.