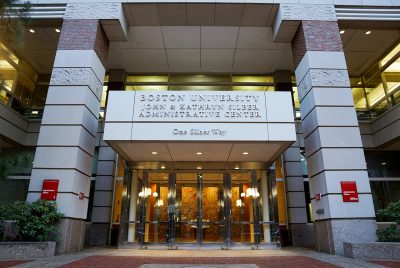 Employees of Boston University's Bulk Mail Services delivered a petition to President Robert Brown's office Wednesday asking for transparency about the school's decision to shutter the Bulk Mail unit this June and give its workers lower-paying, custodial jobs.
Bulk Mail Services is a unit within BU Mail Services that processes "high-volume" mail for the colleges and departments across the university, according to its website. Bulk mail is considered mail of 200 or more identical pieces sent at a standard rate, the site states.
According to the workers' petition, Bulk Mail Services sent more than 2 million pieces of mail last year, "saving the University thousands in expensive outsourcing costs," it stated.
Mike Longo, who has worked in Bulk Mail Services for 27 years, said BU has not demonstrated an understanding of what his department does and has not given a good reason for shutting it down.
"Basically, the university came to us a few months ago and said that they will no longer be keeping us open — and I asked why, and they said because it's management rights," Longo said.
Amanda Torres-Price, the regional communications manager for 32BJ SEIU, the union that represents the workers, said BU has not given any reason or explanation for closing the Bulk Mail department.
The workers are being offered union custodial jobs instead, she said, which are lower-paying.
"One of the things that was kind of a big demand in the walk-in [Wednesday] is transparency," Torres-Price said. "They haven't told the workers why they're shutting down direct mail services and have been pretty tight-lipped on that information."
Longo said he asked the director of labor relations at BU if the university's decision to shut down Bulk Mail Services was about money, or if he and the other workers weren't doing good enough work. He said the representative told him those were not the reasons.
Longo said all of his department's customers are members of the BU community. Bulk Mail fulfills jobs such as mailing out information to students, he said, and printing large quantities of handouts for the schools and colleges.
"The admissions recruiting counselors, they to go to different high schools to recruit students, we fulfill what they need, and we mail it through UPS to get there before they get there," Longo said. "Whatever they need — pens, ID tags, brochures."
BU has given the workers a "short window" to accept their new custodial jobs, Torres-Price said. The workers' jobs in Bulk Mail Services are complex and many departments rely on them, she noted, and the workers are proud of what they do.
"While we appreciate the fact [BU is] offering them union jobs, the custodial jobs are lower paid, so it's a demotion," Torres-Price said. "And for these workers, they've been working in mail for a long time. It's a switch for them to be doing something pretty different."
Torres-Price said the workers asked for a meeting with President Brown, but so far the university has not responded to their questions or set up a meeting.
"We will definitely keep [asking] to try to make sure that the BU students and all the departments know about what's happening," she said.
Several Bulk Mail workers said they are worried about what the university's decision could mean for their futures.
Longo said he recently bought a new house because he thought his job in Bulk Mail was stable. He has been at the university long enough, he said, that his 11-year-old daughter qualifies for free tuition at BU when she goes to college.
"I've never paid a dime for her [college savings] in 11 years since she's been born because I just assumed that I'd be using that because I had no plans to ever leave this place," Longo said. "I'll have to accept whatever job they're offering me for less money and get maybe a second or third job."
Kevin Griffin, who has worked with Bulk Mail Services for 16 years, said the job is "basically all he knows" and that news of the job change has been "really tough." He said he recently bought a condo that he will struggle to afford if he can't keep his Bulk Mail job.
"Since they told us about it, it's extremely stressful," Griffin said. "I decided to, you know, finally buy the condo when I felt financially secure, and I had no intention of leaving the mail room."
Troy Simpson said he has worked in Bulk Mail Services for eight years and that he has been in the mail business since he got out of high school. He said losing his job would make it harder to see his 5-year-old son.
"I live in Dorchester, my son lives in Dorchester, so I like the proximity where I work so I can go see him every day," Simpson said. "He doesn't live with me —  he lives with his mother. So losing my job, I would have to probably get a lower-paying job and move out of the area, which will impact me seeing my son."
David Buono, who has worked in Bulk Mail Services for eight years, said he was "devastated" and "blindsided" by the news his unit was being shut down.
"I just had 4-month-old twins, so between that, and I have another 4-year-old son, and we just purchased a new house and all that together," Buono said. "Now, the thing about my job is crazy."
When asked about the university's decision to close down Bulk Mail Services, BU spokesperson Colin Riley declined to comment.